What if you could have an experience as smooth as a native APP without downloading it. Tencent makes this scenario come true with WeChat Mini Program. From there, their vision is greater: building an ecosystem of online service and productions running within WeChat that can be interfaced with the offline world.
1. They have taken China by storm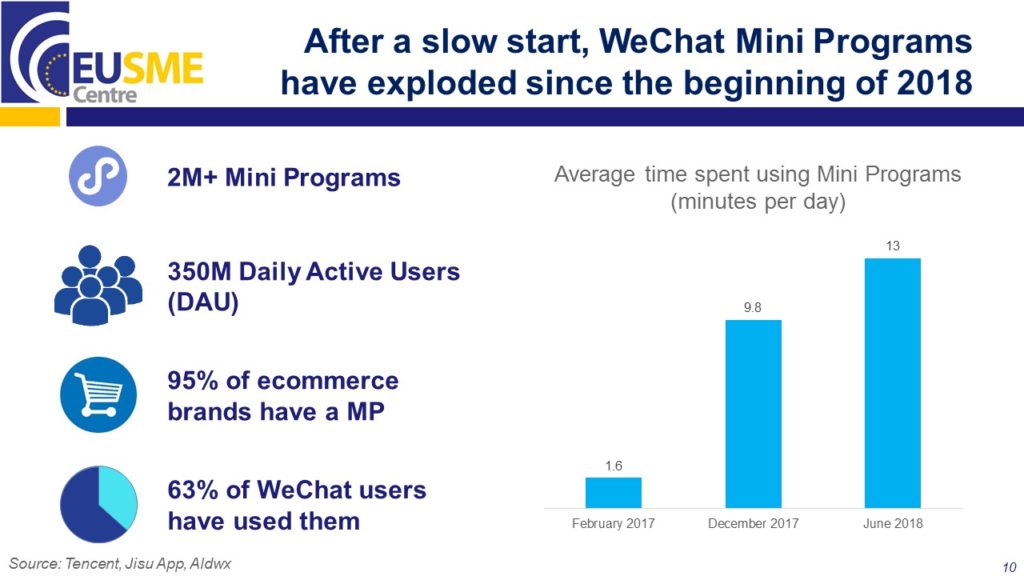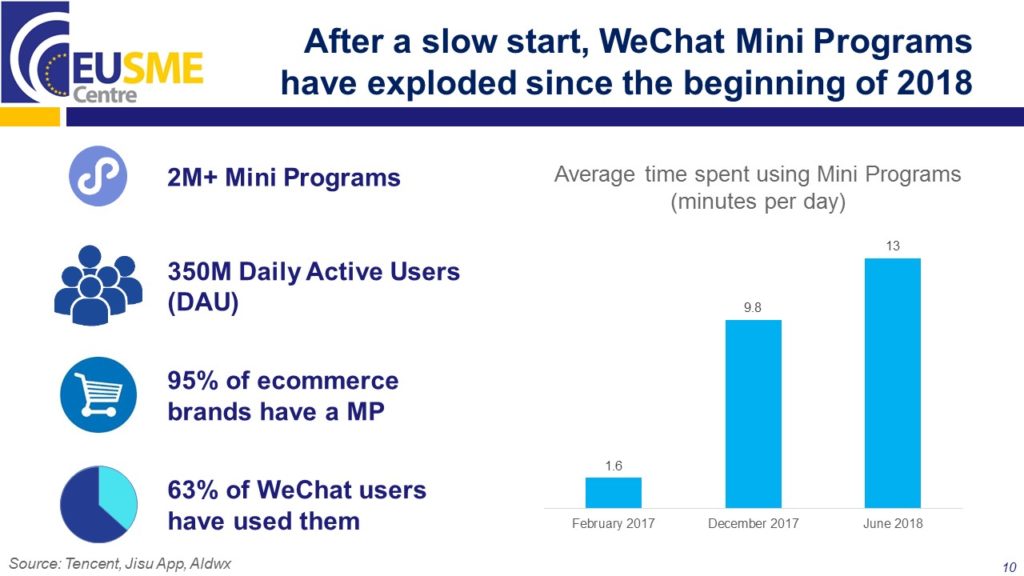 Learn more about WeChat Mini APP's growth here: + WeChat data, insights and statistics: user profile, behaviours, usages, market trends
2. 101: what are WeChat Mini Apps? How do they compare to native Apps and H5 mini-sites?
What are WeChat Mini Programs?
Mini Programs are "mini-applications" built within the WeChat platform.
WeChat turns into an app store with this technology. The all ecosystem around it is progressively positioning this super APP as "(social) Operating System" for everyday life.
Inherent proprieties of this technology:
Capabilities to embed in a Mini Program
Further readings
Official Account? Mini Program? H5?
All in one place – essential reports to learn the basics:
---
---
---
3. Mini Program case studies
Luxury
Tourism / Travel retail
---
Explore more case studies on how to leverage WeChat for brands and businesses
4. Mini Program: strong pillar to drive sales with a variety of models and features to integrate
In the strategy of Tecent to catch up with Taobao/Tmall's shopping experience leveraging WeChat's strengths, Tencent is positioning Mini Program as a key channel to drive sales.
That's why they keep on improving it by regularly adding new features.
More and more brands are using Mini Programs to sell their products.
Mini Programs have proved to be an effective e-commerce tool. In 2018, 18% of Mini Programs were dedicated to e-commerce.
---
---
E-commerce well-known platforms (VIP.com, JD.com, Pinduoduo, Secoo) are helping to drive towards this trajectory with significant adoption of their own Mini Program (vs. their native APP)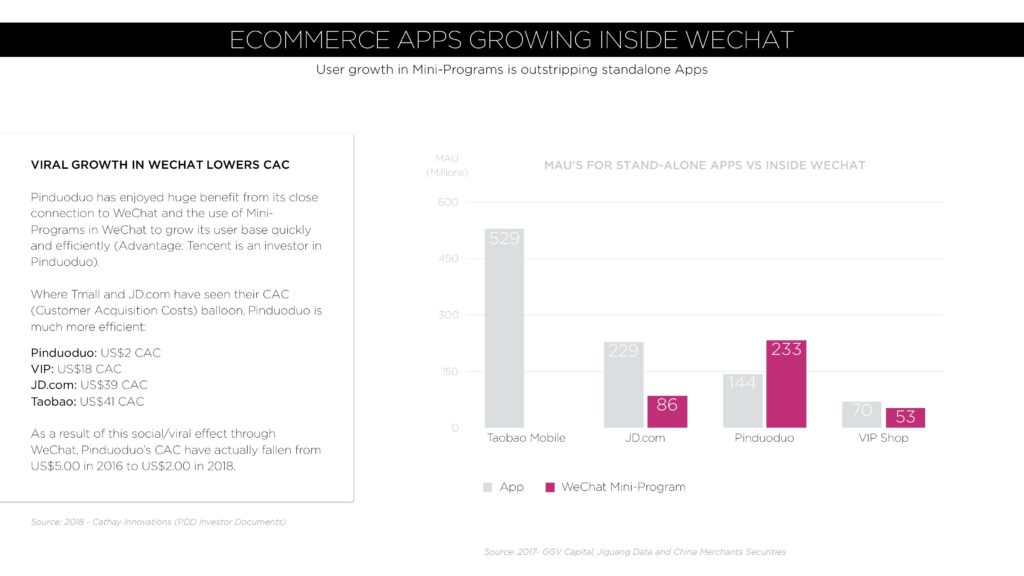 Example of mobile shopping Mini Programs:
Tips, tactics and best practices to sell efficiently through this channel
Case studies
5. Traffic to a Mini Program – Entry points and flows between MP and OA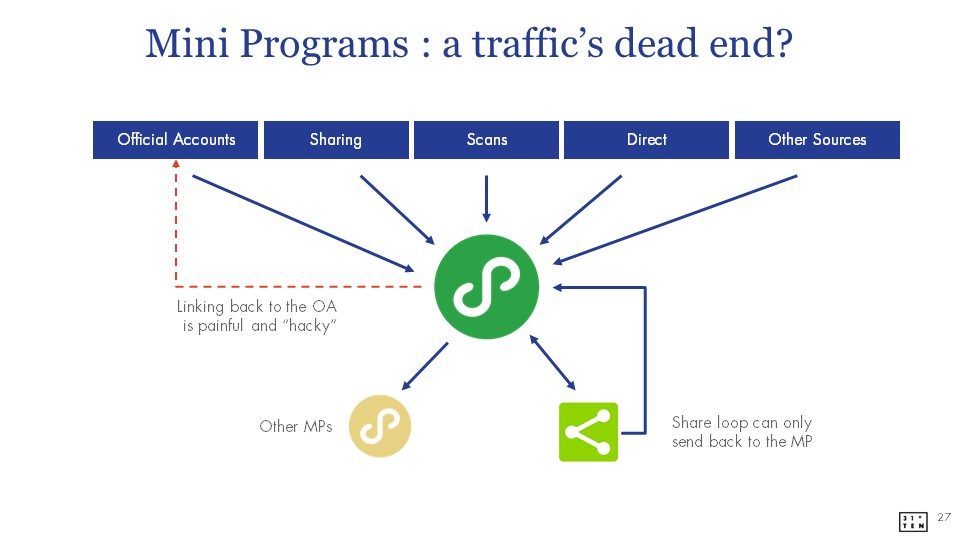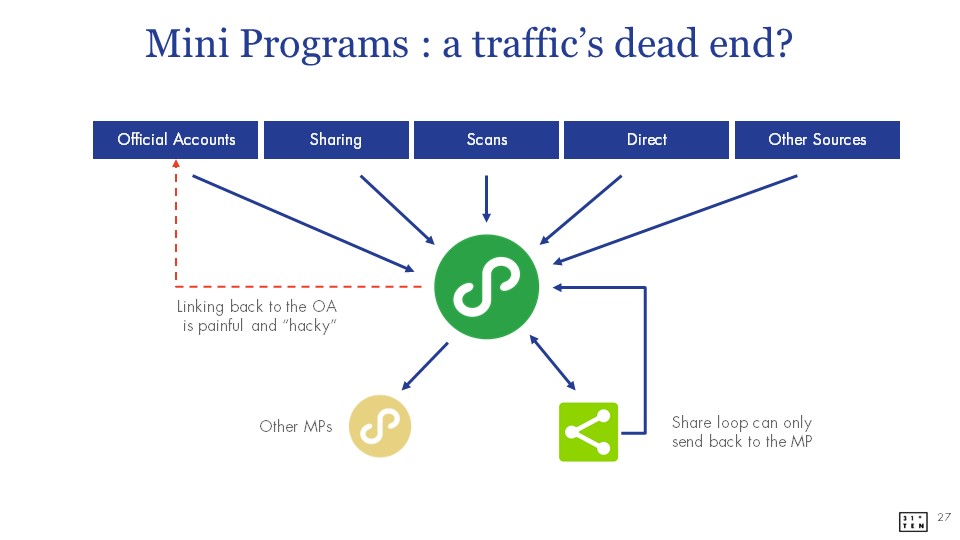 6. Developing WeChat Mini App
7. User Experience and design best practices
Design guidelines
8. Measuring the performance of a Mini Program
---
---
9. Updates and timeline on Mini Program landscape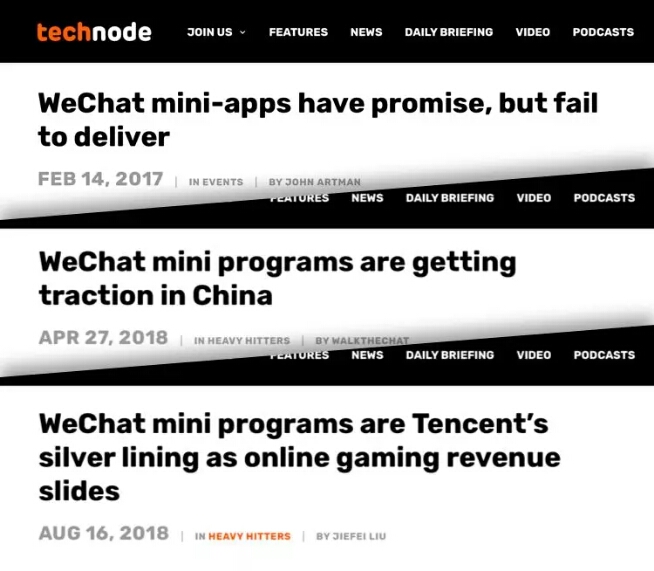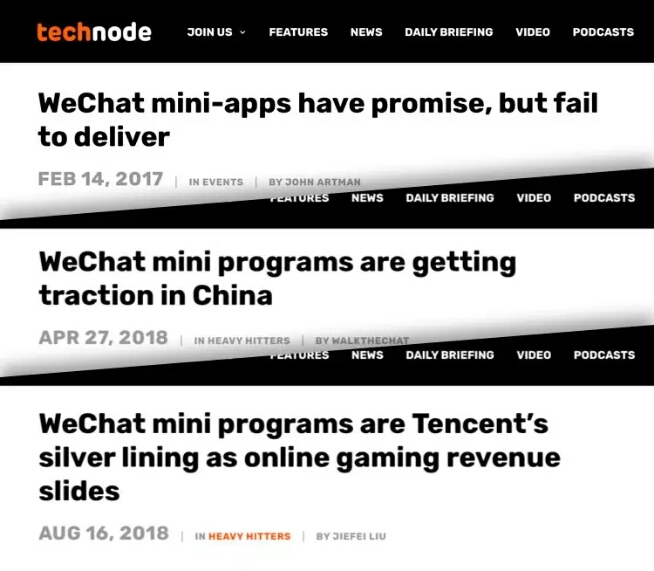 Date
Updates
Source / more details
June 2019
[Feature in testing] Be able to rate Mini Programs with 'star ratings' – a key feature available Native APP stores to incentivize high quality
Mini Programs with a high rating will be entitled to advertising credits to help them reach more users.
Already available for Android version
screenshot

kr-asia
January 2019
[From version 7.0.3] New home screen for Mini Programs:
A window resembling a smartphone's home screen is displayed when swiping down from within the app. The embedded applications also have been made directly searchable from the window, with WeChat adding a Mini Program search bar.
Technode
January 2019
New interface to request user data attached to the WeChat account: phone number, address, fapiao information etc.
screenshot
November 2018
New entry point from a Mini Program to the Official Account it is attached to: banner format inviting to follow the OA after
1 – a MP payment transaction
2 – when scanning a QR code
1 – payment
2 – QR code
May 2018
– The MP user data retrieval engine is now more restrictive, in line with personal data protection regulations
– Mini-games abusing viral mechanisms can now be reported and taken down
– Sharing capabilities have been restricted
– Tencent is now offering APIs to control user-generated content for content rules violations (see + WeChat Rules and Marketing Restrictions)
– The third-party ecosystem keeps consolidating: mini-program template generators, analytics, backend as a service (BaaS), toolkits etc.

March 2018
WeChat search bar added as an entry point
– This feature helps the users have easier access to the relevant functions "deep" linked to corresponding Mini Programs by starting with WeChat's search function.
– For example, if users search kuaidi (courier, 快递), they will get a list of functions like Track Packages, Call a courier, My past packages, and Address management which link to related WeChat Mini App pages
Technode
February 2018
Mini Program ads: they can only link to other Mini Programs
December 2017
New Mini Program shortcut bar:
1 – Add the Mini Program in your favorite list
2 – Mini Program favorite list is access when scrolling up in the chat list screen – above the search bar
1 – add to favorites
2 – Shortcut bar
November 2017
Mini Programs can now also be included into the paid media zone at the bottom of WeChat articles

November 2017

WeChat Shop Mini Program is released: a Mini Program available to all Chinese WeChat Official Accounts directly from the WeChat Official Account back-end. An alternate to the old native store.
Walkthechat
July 2017
WeChat enhanced in-app search results with mini-programs data
CIW
June 2017
Mini Program SEO: developers can now submit up to 10 keywords for approval for each Mini Program on which the WeChat users can discover it by conducting searches. When searching for specific keywords, in the search result page, Tencent is testing some paid Mini Programs (Example when typing "Hotel", this shows an ad of eLong mini-program).
CIW
CIW
May 2017
– Brands can now display different content depending on specific WeChat group ID or group name where their Mini Program is shared.
– Mini Program "nearby" feature lets users find relevant Mini Programs around them. Brands with local stores can use this features to serve in-store customers.
– Tencent launched a Mini Program which enables admins to view data of their Mini Program on their phone.
– Enabled developers to include a Share button on Mini Programs (Tencent forbids any other H5 pages to have a sharing button).
– Mini Programs can access more users data after a one-click authorization, including the past 30 days WeChat Run info (number of steps users take every day).
– Mini Programs can have background music, adjust screen brightness, and have a namecard sharing feature.
– Unlimited QR code tracking API.
– Templates messages to display order status.
WalktheChat
April 2017
– Individual developers can register and create their own Mini Programs
– Register and verify a Mini Program with an existing official WeChat account
– Multiple ways to access to Mini Programs
– Mini programs are now open to third party operators
– StoreMini Programm
– Nearby Mini Program
Chozan
10. Mini Programs everywhere: Alibaba, Baidu, Bytedance and phone makers following suit
All the other Chinese Internet giants have jumped aboard the Mini Program train and have rolled out their own instant Apps.
Learn more about it here: + Mini Programs / Instant Apps: how Baidu, Alibaba, Alipay, Bytedance and Phone Makers fare compared to Tencent's?