From January 2017 and the launch Mini Program by Tencent, this model and technology have shown some tangible proof of efficiency to meet users' expectations and behaviours in a specific scenario. So the other Chinese giant such as Alibaba, Baidu and Bytedance would like to take the curve in order to:
offer similar user-friendly experience to their users
help merchants acquire users
They are progressively opening the doors for developers to develop this type of technology on their platforms.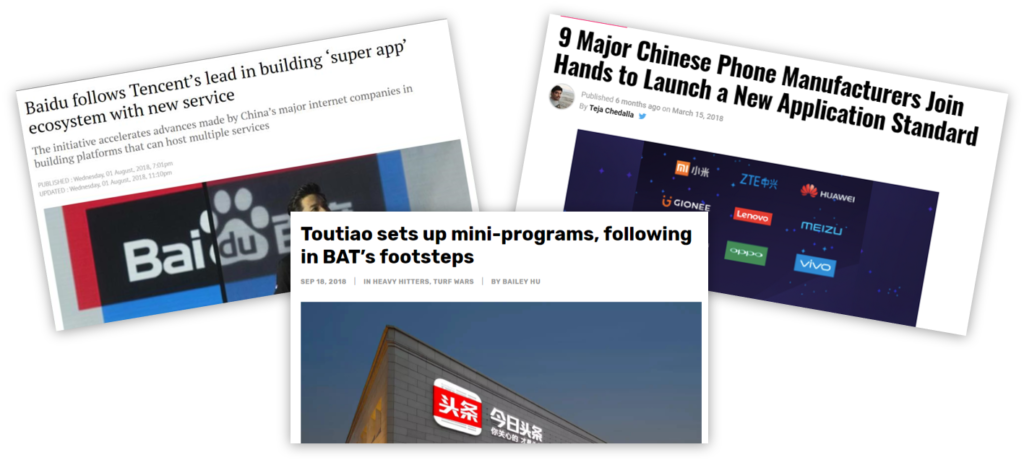 1. Alibaba / Alipay Mini App
In September 2018, Alipay launched Mini Program.
We've experimented with Alipay Mini Programs | December 2017 [Medium – Thibault Genaitay] =>

They are 99% identical to WeChat MPs, to a point they have been accused of plagiarization
They offer a couple unique functions, such as retrieving contacts' details (down to the phone number!), and read Sesame credit score. That opens the door to reward high score prospects and clients with exclusive benefits.
Expect cross-platform development to mature quickly, and allow to develop all Mini Program variants from a single, unified codebase.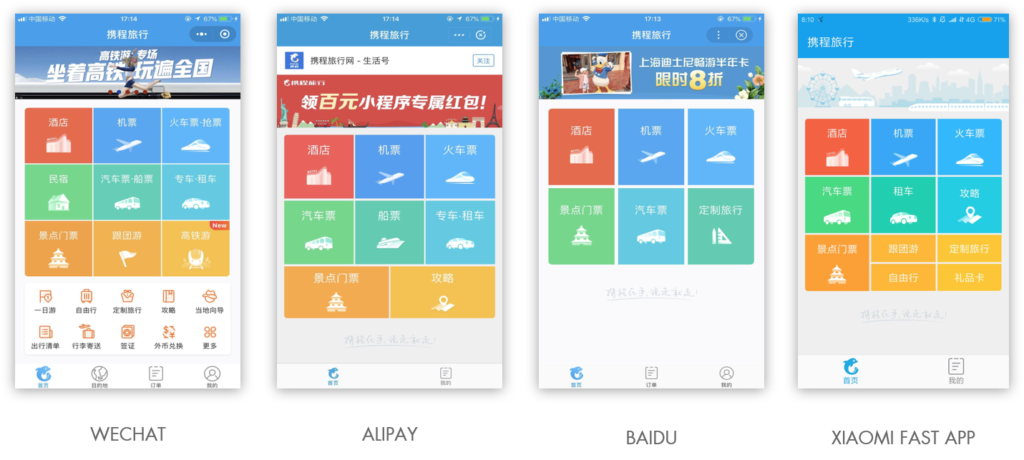 2. Bytedance Mini App
ByteDance-backed platforms Douyin and Toutiao turn to Instant App technology as well:
In October 2018, TikTok launched Mini Program
In November 2018, Toutiao launched Mini Program
3. Baidu Mini Program
In July 2018, Baidu launched Mini Program.
4. Timeline
Date
Updates
Source / more details
June 2019
In the Chinese digital landscape, a growing number of players has adopted Mini Program technology by opening their platform for developers to build on top.

There were 2 actors in June 2018 and they are 8 in June 2019: WeChat – Kuaiying – Alipay – Toutiao – Douyin – Baidu – Taobao – QQ (screenshot 1)

screeshot 1

ikanchai
May 2019
Baidu claim some user tractions:
– 200M MAUs (May 2019)
– 147M MAUs (Q4 2018)
February 2019
Taobao (Alibaba) have started boasting 3rd parties to develop Mini Program on their ecosystem.
WalktheChat
January 2019
By Jan 2019, Alibaba released some data about its Mini Program 4 months after launch:
– 500 million Mini Program users
– 170 million daily active users
– 43% 7-day retention rate
WalktheChat
December 2018
Douyin (Bytedance) launches mini-program feature (only functional on Android)
Technode
September 2018
– Public release of Alibaba (Alipay) Mini Programs: access to Zhima Credit Score + 1Bn RMB fund allocated to the new division
– Private beta of Toutiao Mini Programs > one of the biggest content distribution App in China
July 2018
Private beta of Baidu Mini Programs > search engine traffic and solid AI toolkit
March 2018
9 Chinese phone manufacturers join forces to issue an OS-level light app standard
August 2017
Private beta of Alibaba MPs
January 2017
Public release of WeChat Mini Programs
2015
Google issues the first Progressive Web Apps (PWA) standardization draft