What is WeChat Brand Zone?
It is a specific area that shows up first in search results when you enter a brand name that has set up their zone. The brand zone intro functions as a complete mini-site through which you can register your stores and add a comprehensive introduction to improve searchability.
The brand zone is a key opportunity for brands to take control of the search function and offer users a quick entry point to the WeChat ecosystem: a brand's official account, mini-program, store locator, etc. Moreover, since it is free to open (unlike Chinese search engines' brand zones), it should be considered among the WeChat setup basics for brands.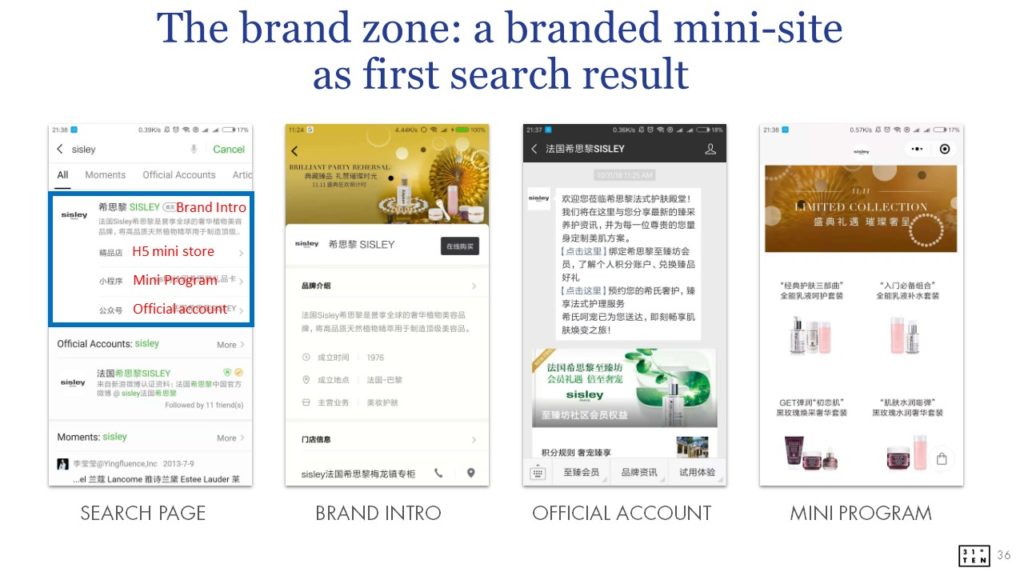 The Brand Zone is a way to capture your branded search traffic in an optimal way:
WeChat search is the number one source of follower recruitment to Official Accounts for premium and high awareness brands: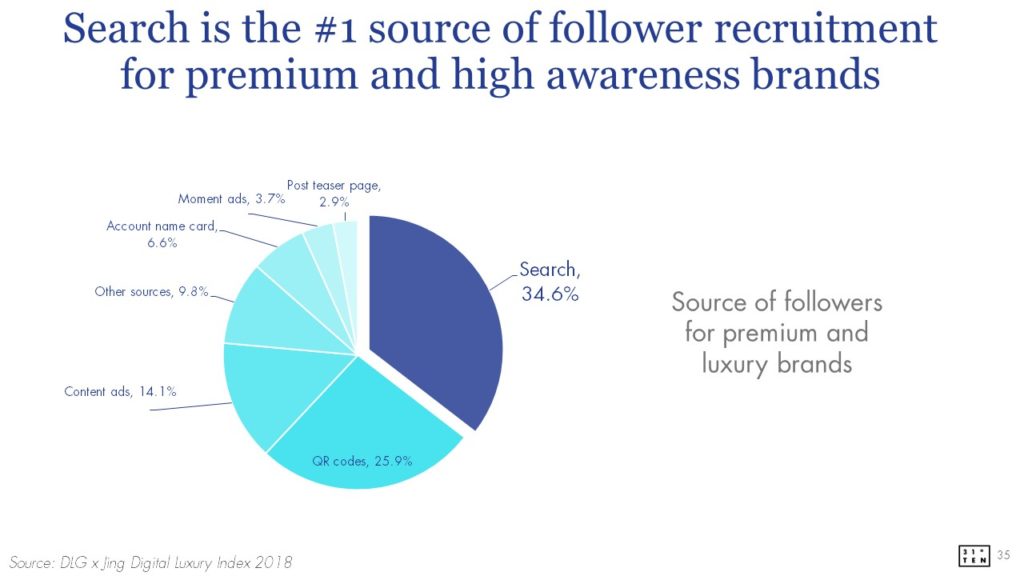 WeChat Brand Zone FAQ
What are the benefits of the WeChat Brand Zone?
– Show reassurance for users that they are interacting the the real account or Mini Program of the brand, not a fake account hijacking the brand name.
– Exposure to non-followers through search: users can directly search for brands they want to visit on WeChat
– Shortcut to your most important WeChat properties: Shop, Mini Program, store locator etc.
– Flexible traffic control: redirecting users to the best sales channel – H5, Mini Program, brand mobile website etc.
– Direct integration with Tencent geo located database for stores.
What is the cost of the WeChat Brand Zone?

It's free to setup, as long as you can show Tencent you control the brand trademark.
What do I need to setup a WeChat Brand Zone?
– A verified WeChat Official Account
– Proof of trademark control: exclusive licence for the Chinese territory, trademark ownership certification.
– Not being in the medical or in the financial industry due to the WeChat industry restrictions
---
Learn more about the trademark registration prerequisite: + Protecting your brand with trademark registration on WeChat