As part of the WeChat ecosystem, there is a diverse range of marketing-oriented gateways that are opportunities for brands to reach their audience.
Besides WeChat Public Account and WeChat Mini Program, brands can leverage the WeChat Brand Zone as another port of entry to connect them with their audience.
Another advantage of this digital access point: consolidate your WeChat searchability by extending your exposure in the WeChat landscape to non-followers within WeChat.
1. What is WeChat Brand Zone? How does it work?
It is a specific area that shows up on the very top in the search result page when users type a brand name (or related terms) provided the brand has set up their tailored zone beforehand.
The brand zone introduction functions as a complete mini-site.
Brands and businesses have full control over their dedicated space that can be populated with the followings and divided into 5 sections:
Brand information
WeChat Official Accounts & Mini Programs
Sales channels
List of brand services
Custom templated components/modules
The image below shows Cartier's brand zone.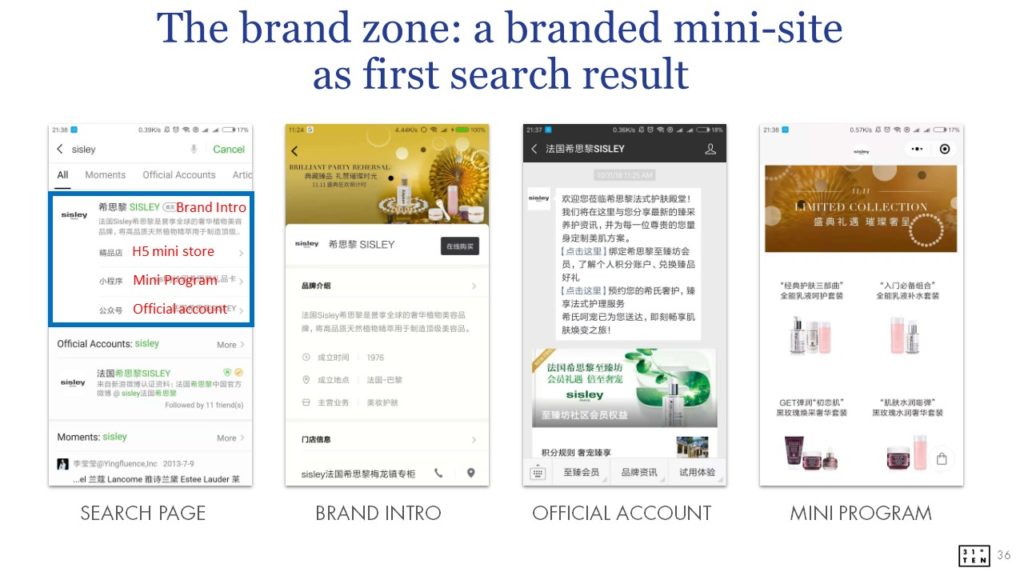 These 5 sections can be populated with:
Brand logo / introduction
Contact information such as phone number
Store locator listing (eg. display all the nearby Cartier stores)
Boutique stores
eCommerce H5
Official product sales listing
Web-based application rendered within WeChat in-app browser (H5)
List of after-sale services
Native live-streaming service (using Mini Program technology)
FAQ list
Customized content and activity: a comprehensive introduction, WeChat themed campaigns, promotions

3 level of visibility for a brand
There are 3 different levels of classification:
The classification of each brand is established according to some defined criteria:
Daily traffic
Impression CTR
Participation in WeChat Search Promotion Program
WeChat Official Account registration date
WeChat Official Account verification level
Depending on the group the brands fall into, the brand zone layout, the available features, and the requirements are different.
Another way to optimize the brand SEO presence
Easy to access, it is aiming to improve searchability when users are landing on the WeChat search result, especially for the ones who are not following the given brand yet.
The brand zone is a key opportunity for brands to take control of the search function and offer users a quick entry point to the WeChat ecosystem.
Moreover, since it is free to open (unlike Baidu Chinese search engines' brand zones), it should be considered among the WeChat setup basics for brands.
Benefits of using this official access point from a business perspective
Free
Exposure to non-followers within WeChat – brand awareness
Searchability capability
Further readings
2. This official WeChat channel is a way to capture your branded search traffic in an optimal way:
WeChat search is the number one source of follower recruitment to Official Accounts for premium and high awareness brands: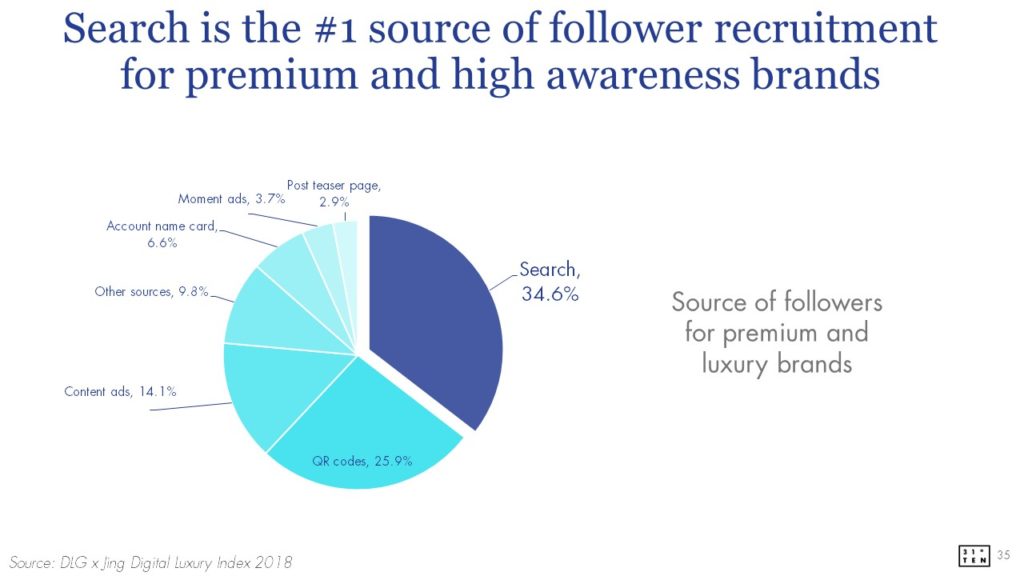 3. WeChat Brand Zone FAQ
What are the benefits of the Brand Zone?
– Show reassurance for users that they are interacting the real account or Mini Program of the brand, not a fake account hijacking the brand name.
– Exposure to non-followers through search: users can directly search for brands they want to visit on WeChat
– Shortcut to your most important WeChat properties: Shop, Mini Program, store locator etc…
– Flexible traffic control: redirecting users to the best sales channel – H5, Mini Program, brand mobile website etc…
– Direct integration with Tencent geo-located database for stores.
What is the cost of a Brand Zone?

It's free to set-up, as long as you can show Tencent you control the brand trademark.
What do I need to set-up a Brand Zone?
– A verified WeChat Official Account
– Proof of trademark control: exclusive license for the Chinese territory, trademark ownership certification.
– Not being in the medical or in the financial industry due to the WeChat industry restrictions
Any restriction for brands to open an Official WeChat Brand Zone
– Industry restrictions by WeChat platform: Brands can not be in the medical or financial industry
What type of content can be added to the Brand Zone?
– Text / image
– H5
– WeChat Mini Programs
– WeChat Brand Account
How can the user find the Brand Zone?
By typing in the brand's name and related terms in the search bar and selecting the search option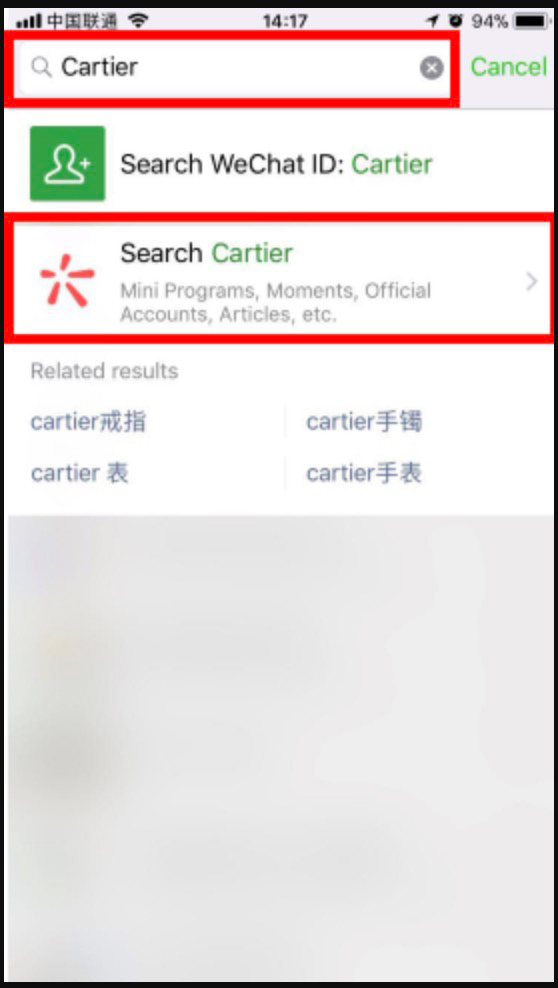 ---
Learn more about the trademark registration prerequisite: + Protecting your brand with trademark registration on WeChat
4. First case study on how brands such as Gucci, Longchamp and Cartier take advantage of this official WeChat in-app space: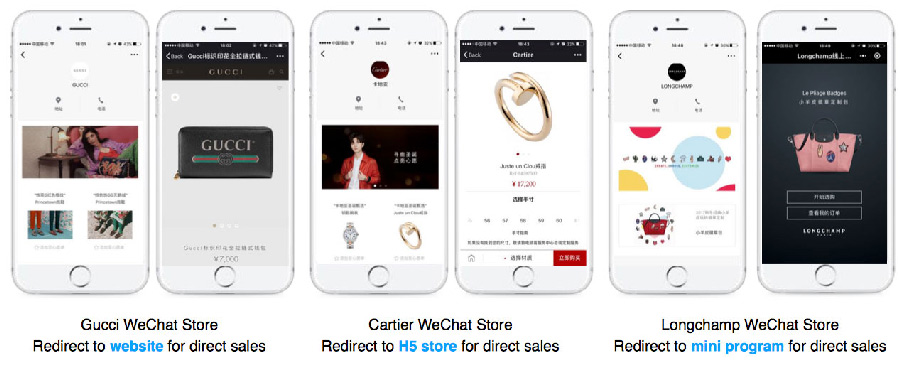 From their own Brand Zone:
Cartier redirect visitors to their H5 online store
Gucci redirect visitors to their brand website
Longchamp redirect visitors to their WeChat mini-program online store
Further readings
5. Updates and timelines on WeChat Brand Zone
| | | |
| --- | --- | --- |
| Date | Updates | Source / more details |
| December 2020 | The available fonctions and the Brand Zone layout of the Class A-categorized brands have been updated. | 31Ten |
| July 2019 | Branded content section to promote a service, product or content. | theEgg |
| January 2018 | A selected group of brands (mostly luxury business) has received exclusive access to this feature as beta adopter | |
| December 2017 | The new feature called "brand zone" is released in WeChat version 6.6.1 | |