Here is a curated collection of recent noteworthy WeChat marketing campaigns and insightful case studies that brands and businesses can learn from:
Fashion & Luxury
Armani – AR Mini Program
Campaign description: Armani Beauty Debuts Very First WeChat AR Mini Program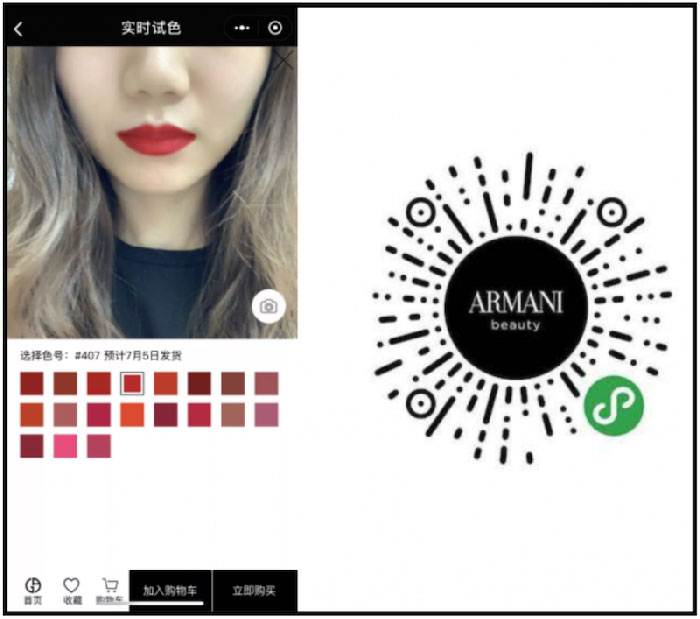 Features: The cosmetics line under the Italian house Armani, in partnership with L'Oreal, was the first luxury brand to debut an AR Mini Program on WeChat. Powered by Modiface from L'Oreal, consumers could virtually try on all 23 lipstick shades (each is priced at 310 yuan, about $45), and have the option to put into a shopping cart or place an order right away, and all within the WeChat ecosystem. Described as the "Try Now Buy Now" model, this option is only available for users with WeChat 7.0.5 version and is supposed to offer a closer to reality and easier to use option than having to upload a picture to see the final effect. To unlock this feature, brands still need to partner with a third-party AR solution service and have a WeChat Mini Program.
Our Take: One of the biggest advantages of the WeChat Mini Program is that you can use it without downloading any extra apps, making it a convenient tool for luxury brands to deliver new experiences. And AR technology offers a natural stimulation, be it virtual try-on of new footwear, handbags, accessories, jewelry, or even to showcase an exhibition entirely online. There's plenty of room for imagination and innovation, to be sure.

Learn more about this campaign
---
Celine – Mini-Site
Campaign description: Celine Builds a Mini-Site via WeChat Mini Program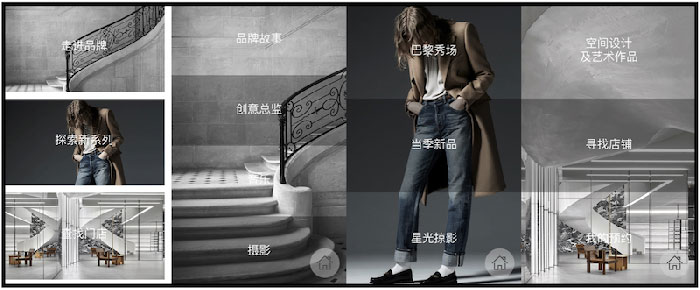 Facts: Under the new leadership of creative director Hedi Slimane, the French luxury brand Celine is slowly rolling out its digital strategy for China. After opening a WeChat account roughly two years ago, the brand finally launched its first-ever WeChat Mini Program on July 8.
Features: The new WeChat Mini Program is divided into three parts: "About Celine," "New Collection," and "Store Nearby." In the first section, Celine presents its 74-year-old history, Hedi Slimane's biography and two recent interviews with Figaro and Vanity Fair, plus, some audio and visual assets. Readers can browse through Celine's latest collections from runway to celebrity looks in the second part. In addition, viewers are invited to discover the brand's flagship stores in Paris, Tokyo, New York, and Milan. Lastly, the program enables consumers to make digital appointments to visit offline stores.
Our Take: Launched by Tencent in January 2017, WeChat Mini Program has now become a must-have for luxury brands doing business in China due to its varied capabilities and massive user base. According to Gartner L2, a research and intelligence company, roughly 70 percent of fashion brands in China have at least one Mini Program nowadays.
Learn more about this campaign
---
Fendi – Mini-Game
Campaign description: Fendi blends star power and fashion in the latest WeChat Mini Game
Facts: Fendi's new WeChat Mini Game, Fendi Ways to Rome, which was launched yesterday. According to the brand, collaborated directly with WeChat for a month, this is the very first WeChat game in the luxury industry.
Features: The details of the game are impressive. For example, players can choose their own avatar to play. The male version is Xu Weizhou, the Chinese actor and singer-songwriter and brand ambassador for the Fendi Peekaboo bag in China (his own music scores the background of the game). Players can follow Xu Weizhou through the different levels of the game: Discover, Tracing, and Pursuit of Dreams in the journey through Rome, and then unlock the "hidden" level to complete the experience.
Results: Star power took effect, and his fans responded overwhelmingly positively: "I'd like to play for my idol Xu," or "This such a delicate Mini Game." Many fans hope to travel with Xu, if they are selected for the trip. Moreover, within one day, the post garnered over 11,000 pageviews and received 141 likes. Game on — all roads lead to Rome.
Learn more about this campaign
---
Hugo Boss – User Generated Content

Campaign description: Hugo Boss show off your dad's look via user-generated content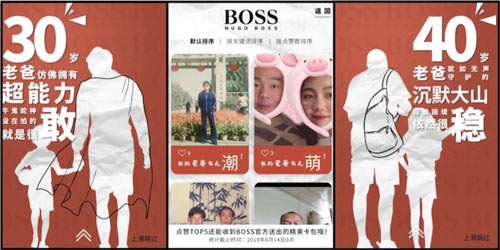 Facts: With Father's Day coming this Sunday, June 16 2019, many brands posted their very own gift guides on WeChat at the beginning of the week. This year's best examples (not surprisingly) are dominated by menswear brands. A consistent theme was playful visual, verbal, and interactive elements that made these campaigns memorable. Contrary to most brands that recommended products as gift ideas, the German luxury fashion house Hugo Boss chose to highlight the dads themselves for their Father's Day campaign on WeChat.
Features: Their post illustrated different "dad" profiles at different ages, and by linking to a WeChat Mini Program, users can upload pictures of their dads along with words that described their style (like handsome, cool, cute, silly, etc.) They can also view and like other people's dad photos. There's no shortage of perks for participating, either. The top-five "like" earners will get a free Hugo Boss wallet, and readers can also visit specific offline stores to receive a Father's Day gift box and card for free. At the end of the post, readers can check out different gifts options for their dad.
Results: By the time of this publication, the post garnered over 4,280 pageviews and received 25 likes.
Our take: Hugo Boss's creative UGC Mini Program is a call for sharing memory instead of highlighting products, which could help to raise brand awareness.
Learn more about this campaign
---
MCM – E-commerce
Campaign description: MCM Celebrates Children's Day with Discounted Goods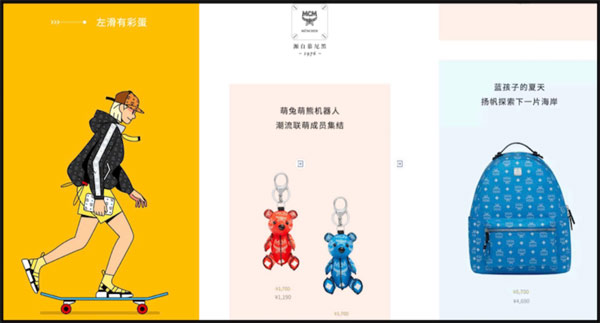 Facts: Children's Day may be less known in the West, but in China, it's a well-established holiday, by both adult and kids. Many users have already shared their celebration on WeChat Moments. While we looked for new marketing campaigns, it seems like this year's Children's Day has received less interest than previous years, which means less competition for brands that actually created a thoughtful campaign.
Features: MCM surprised readers with the print of "Happy Children's Day boys and girls" in bold, yellow font on WeChat. Once you swipe left, a list of products appear with various spring discounts, the lowest is down to 7 percent. Items include a teddy bear keychain ($172), a rabbit print wallet ($263), and large logo-covered bags. Once you click on the photo of an item, readers are direct to the product page and can purchase right away via WeChat Pay and AliPay.
Results: The post attracted 8,595 pageviews and 25 likes.
Our take: MCM hit two musts for brands holiday marketing campaign: Use interactive element (swipe to left) to engage with your readers & link to the e-commerce store. But would the discount strategy attract more sales?
Learn more about this campaign
---
Hermès – Pop-up event
Campaign description: Hermès unveils scarves at rockin' pop-up in China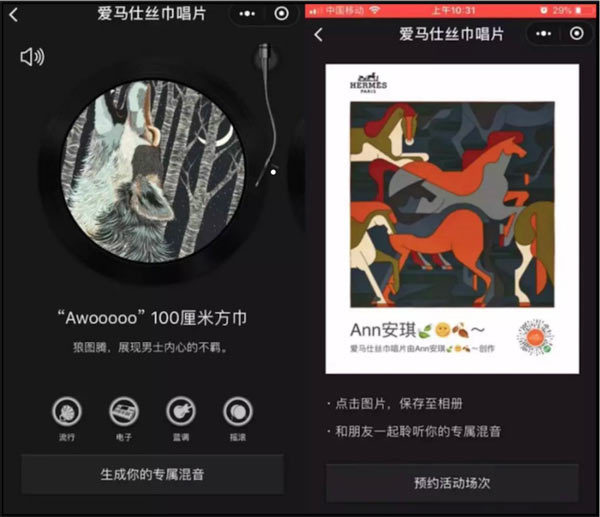 Facts: At the end of 2018, Hermès hosted an eight-day record store pop-up event in the ultra-hip Beijing shopping district of Sanlitun, where visitors could listen to recorded music, as well as live performances. What branded the event, as distinctively Hermès, was the fact that album covers, featuring music from years of the brand's runway shows, were emblazoned with designs from different Hermès scarfs that were for sale.
Features: According to Tencent's official WeChat ad account (腾讯广告), the pop-up event, which was called "Silk Mix," was promoted twice as a WeChat Moments Ad.
The first focused on directing users to a Mini Program where they could sign up for the event. Once on the WeChat Mini Program, users could create their own unique mix by selecting from a wide range of music — anything from jazz to rock — that they were able to pair with a Hermès scarf pattern of their choice. Users could then sign up and visit the pop-up event where they could also make real customized vinyl records.
The second WeChat Moments Ad directed traffic to Hermès' e-commerce site. The targeted demographic included Hermès' WeChat account followers, "lookalike" users, and users with luxury fashion interests.
Results: The Mini Program increased traffic to Hermès' Official Account by more than 60 per cent and ultimately helped to attract thousands of guests to the event. The second round of promotion attracted an engagement three times the size of the first ad.
Our take: These days, Hermès is experimenting on WeChat more strategically by promoting accessories at lower price points, such as watches and scarves with a strong call to purchase. And while it has become standard for a brand to leverage WeChat for their pop-up events in China, what Hermès demonstrated with "Silk Mix" is that bringing digital engagement into a store-like setting is still more of an art than a science.
Learn more about this campaign
---
Art & Museum
London V&A Museum – Multi-media
Campaign description: London V&A Museum WeChat debut, showing strong China commitment

Facts: London's Victoria & Albert Museum has previously hosted exhibitions in mainland China and Hong Kong, and is the very first museum in the world that made WeChat a part of museum collection (yes, the social media app itself), which means the museum knows how important WeChat is. So it didn't surprise us when V&A launched a WeChat account. But exactly how does the China veteran do it?
Features: Deputy Director and COO of V&A, Tim Reeve, who appeared in multiple videos, gave a warm greeting to the audiences on WeChat and offered three reasons why V&A is a must-visit destination. Then, he introduced his personal favorite exhibition, as well as China-focused exhibition on footwear, which had already toured in multiple Chinese cities. The WeChat post itself shows what's on display now and what will be. At the end of the post, it included two banner ads, offering benefits of membership and shipping information of the museum store, it also encouraged people to use "#VAtime" to share their experience on WeChat as well as Weibo.
Results: The post had an off the chart performance with about 5,000-pageview and 100 likes, whereas average pageviews of an overseas museums' posts usually are only in the hundreds.
Our take: V&A's debut on WeChat is an impressive one. It has loads of meaningful information organized in a visually pleasing way. The post is a refreshing move, displaying the level of commitment that V&A has on expanding in the China market. In the video, Reeve shares his vision for future exhibitions in China, including a fashion photography exhibition in the next half-year. The previous exhibitions in China have been focused on fashion and luxury, which are all good themes to communicate with mainstream consumers. Fans sure have a lot to look forward to.
Learn more about this campaign
---
National Gallery of Victoria in Melbourne – Content
Campaign description: NGV showcases Terracotta Warriors & Cai Guo-Qiang Exhibits on WeChat

Facts: On May 24 2018, at the National Gallery of Victoria (NGV), in Australia, the Melbourne Winter Masterpieces presentation of Terracotta Warriors: Guardians of Immortality premiered. Visitors were able to explore the Qin Emperor's terracotta warriors along with 150-plus awe-inspiring artefacts of ancient Chinese art and design. Shown in unison with the historical display is a collection of new artworks by contemporary artist Cai Guo-Qiang.
Features: On NGV's WeChat account, it gives details on Terracotta Warriors collection, its history, and specific displayed items. It also included the entire painting of NGV's, as users swipe down, they can see every inch of Qiang's Transience II work on their screen.
Results: in the WeChat campaign, the post attracted 2,845 pageviews and 17 likes.
Our take: NGV did a good job keep their subscriber up to date — besides a detailed introduction of the stand-alone post, we also saw the welcome message included information about this new exhibition.
Learn more about this campaign
---
San Francisco Museum of Modern Art – Audio Guide
Campaign description: San Francisco Museum of Modern Art launches a new WeChat mini-program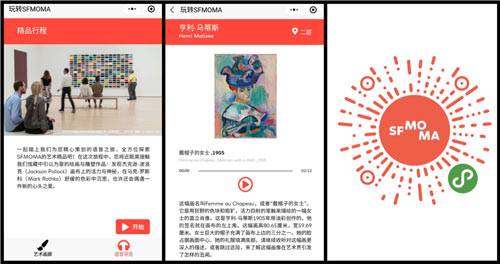 Facts: Launched in January 2019, the Mini Program is geared to attract more visitors by not only introducing them to the museum but also by giving them a more in-depth viewing experience. Users can now engage with SFMOMA's collections regardless of their location in the world.
Backstory: The research, planning, and development have been in progress since August 2018. SFMOMA worked with China Luxury Advisors to review mini-program options, specifically what other museums and attractions have previously developed. They first thought about popular gamification options for mini-programs, but really wanted to focus on providing a free "tool" for visiting the museum.
Features: It has a user-friendly layout of the museum and its must-see exhibitions. It also provides a Mandarin audio guide (and accompanying text), highlighting various works of art throughout the museum. There is a separate hands-on tutorial on WeChat about how and where to access the mini-program.
Next steps: SFMOMA will continue to monitor the engagement of the mini-program, confirming that it's a helpful tool onsite, and adjust content accordingly. If successful, SFMOMA would like to expand the number of tour options beyond their Highlights Tour.
Our take: We like the overall design, which is simple to use and visually pleasing, as well as the carefully curated content, but hope to see as it evolves more interactive and social features, such as user comments and merchandise to take home.
---
Tourism & Hospitality
King Power – E-commerce
Campaign description: How King Power's Stepping Up to Get the Chinese Travelers' Money

Facts: Amid slowing economic growth and stricter Daigou regulations in China, overseas retailers and brands have struggled to maintain the level of sales generated by Chinese tourists in recent years. It's a watershed moment for the industry, as the winners quickly learned to adapt to Chinese technology, exemplified by the duty-free group like King Power that has utilized WeChat Moments ads to capture the attention of Chinese travellers before they even depart China.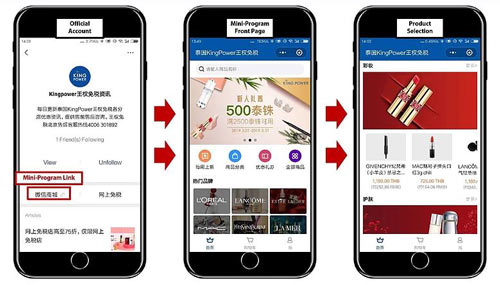 Features: The goal of the campaign is to target female Chinese tourists who are travelling in Thailand. The Moments Ads use popular products and promotional information to attract users' attention. Once clicked, users are directed to the mini-program e-commerce page where they can place an order directly and pick up their goods from the airport.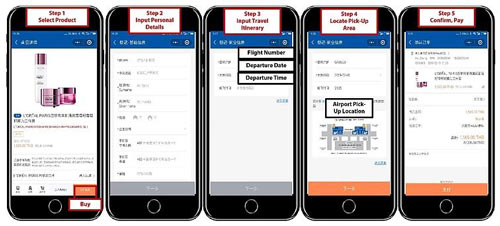 Results: The click-through rate on the ads was 5.5 times the industry average.
Our take: Combining the power of WeChat Moments ads and the mini-program, King Power allows travellers to avoid the hassle of shopping offline. They have designed a seamless experience where travellers can place an order before arrival while taking their time browsing products on the mini-program, and they can pay with WeChat Pay without switching currencies. Customers don't have to deal with long lines or get frustrated when their desired item is out of stock as they would in a retail outlet.
Learn more about this campaign
---