In the WeChat ecosystem, the WeChat Official Account represents the first opportunity for brands and businesses to capture, engage and covert their target audience.
This business account can be leveraged for different aspects of the marketing funnel. It is the cornerstone to build a (potential) customer base within WeChat to begin with.
1. Introduction to WeChat Business Account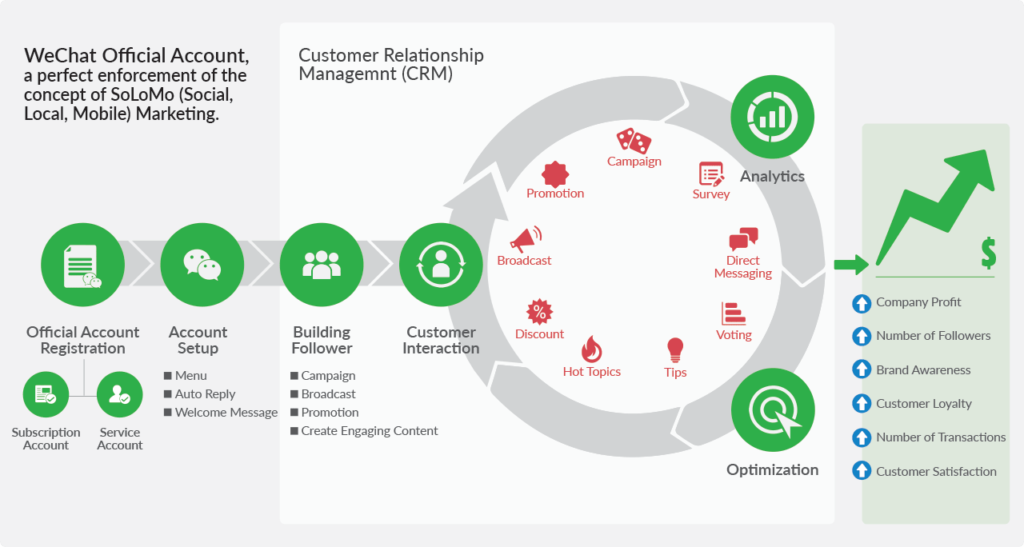 What is WeChat Official Account?
WeChat Official Account (also known as "OA") is a China-based marketing platform that acts as a complete brand hub to:
Gather followers
Send them targeted content
Push them marketing and service notifications
Redirect them to a website/e-commerce
WeChat Official Account back-end login URL:
How does it work?
Basic features available to interact the audience:
Group message – broadcast messaging
Direct messaging – when the user engages with the account in the conversational interface of the public account
Comment management
Voting
Automatic reply
Customized menu – three level-one menus in which each can include up to five level-two menus
Customer service
Original statement
Analytics
Follower management
and many more as the WeChat team keep adding new features to help brands…
Connecting to WeChat Backend platform give access to set up and manage these functionalities.
The available features and capabilities depends on the account type and whether the account is verified or not.
In order to avoid spammy activity which can be seen unfriendly for users, WeChat Business accounts have some rules about how frequently they are allowed to message their followers. This restrictions are different depending on the WeChat Brand Account type.
How to access the WeChat Brand Accounts in WeChat?
They can be found in the "Chat" section of WeChat.
However, depending on the WeChat Official Account type (Service or Subscription), they appear differently in this "Chat" section:
WeChat Subscription Accounts appear in the "Subscriptions" (blue-colored) folder
WeChat Service Account appears in the thread chat listing – they mixed with private and group chats
Two types of WeChat Public Accounts: Subscription vs. Service Account
In short: unless they have a media arm, the vast majority of brands will use a Service account.
Learn more about WeChat Official Account type and their key features here: + WeChat Subscription vs. Service Account
All in one place – essential reports to learn the basics
---
---
Further readings on public accounts
2. Set-up / registration process
WeChat Public Account sign-up URL:
Learn more about how to set up an Official Account here: + Opening a WeChat Official Account: application process, requirements, fees and rules
The WeChat backend is now in English since November 2017: If you are located overseas or are using your computer in English, the WeChat backend (https://mp.weixin.qq.com/) will automatically display in English.
As a foreign entity without business licence in China, you can also register a WeChat official account. Learn more about how to set up an Official Account from overseas here: + Opening a WeChat Official Account under an Overseas Business Entity: application process, requirements, fees and rules

3. Features and capabilities of the WeChat Public Account Platform
Infographics | WeChat Official Account Platform | January 2017 [Grata]
The capabilities of the Official Account vary depending on the account type, primarily for
The number of messages you can broadcast per month
The capability to integrate the OA with third party APIs
Learn more about WeChat Official Account platform features here: + WeChat Subscription vs. Service Account
Welcome message
When following the official account, a customised welcome message can be sent automatically depending on the follower acquisition source.
This welcome message can include:
Mini Program
Online shop
WeChat Article
Text
Image
Service Center Message
Hyperlink
Service Account Menu Bar
When accessing the Official Account thread screen, there is menu at the bottom which can be customised.
This customised menu is only available with a Service Account.
This is an easy and intuitive access to the services provided by the brands.
This menu can include:
Link to a Mini Program
Link to a H5
Link to a WeChat Article
Trigger to display a Auto Reply in the thread screen
Live broadcast service
Linked to an Official Account – the live streaming session is accessible via service notification message sent by the Tencent Live Stream Mini Program (腾讯直播).
4. Mesure sucess to assess a WeChat Strategy
The New WeChat KPIs: 6 Ways to Measure Your OA's Success in 2020 | October 2019 [Chatly]
5. Tools for WeChat Official Account
Personal and Official Account QR code generator = cli.im/weixin
6. Updates and timeline
Date
Updates
Source / more details
July 2017
[Testing phase] ad positions: more freedom to choose the specific spots where the ads are displayed
Technode
November 2017
Tencent made the subscription feed of WeChat look more like a news feed, which is more familiar to the reading habit of Chinese people.

Currently, subscribers to WeChat Official Accounts need to click manually on the accounts to see recent updates. This limitation hinders the real-time interaction between brands and their customers. If the news-style subscription is implemented in the future, brands can reach their customers in a more user-friendly way, increasing the possibility of viral contents and social sharing.
Jing Daily
February 2018
Tencent has reduced the number of Official Accounts a business can open to 5 (from 50 previously). In a statement made Saturday, the company downsized the numbers of Official Accounts each entity could register. Individuals can register up to two accounts, down from five, while organization users recorded a more drastic change from 50 to only five Official accounts.
Technode
February 2018
"Edit" feature for content posted on WeChat Official Account. This feature only allows each post to be edited once for up to five character changes. As explained by Tencent, this limitation encourages brands to be more serious in creating quality content for their followers.

Technode
March 2018
Be able to open a OA from oversea (HK, Macau, Taiwan, Japan, Korea)
Source
June 2018
Service account homepage now shows direct links to menu items, emphasizing the fact that WeChat service accounts should provide a more user-led experience
Jing Daily
November 2018
Tencent has reduced the number of Official Accounts a business can open to 2 (from 5 previously)
Source
March 2019
Integrate live streaming feature into WeChat Official Account through the Tencent Live Streaming Mini Program (see screenshot)
It provides the following functionalities:
– Official Accounts is able to share the live stream with their followers
– generate QR codes and flyers
– let fans book a seat for upcoming streams
– send reminders, add filters to the video
– set forbidden words
– provide a playback of the video when the stream is over
screenshot
Source
6. Traffic to a Public Account – Entry points
The entry points to drive traffic to an Official Account:
O2O entry points (from scanning QR codes)
from a link (OA card shared on a chat)
from global search (based on submitted keywords searched)
from ID-based search (as if you searched a person with his/her ID WeChat)
from Mini Program
Learn more about the entry points here: + Traffic entry points to a WeChat Official Account
7. WeChat Official Account vs. Mini program: do they compete? How do they complement each other?
From a conversion perspective
Increasing conversion – Official Account or Mini Program? | February 2018 [RikaiLabs]
Key takeaways:
Official Accounts are designed more for customer support and to broadcast information to a company's followers and userbase. However Mini Programs are designed more to be more functional and engaging.
+ WeChat Mini Program: an epic guide
8. WeChat Public Account list to follow
+ Top WeChat Official Accounts to follow to keep up with WeChat ecosystem