This article was originally published on my LinkedIn author profile.
---
If you've never stumbled your way through the WeChat Official Account backend, or lost yourself in the black hole of a 3rd party editing software like Xiumi, 1200+ WeChat posts may not seem like a significant number to you.
But for those of you who have navigated the painstaking process of not only writing, but designing and formatting WeChat posts — you'll have an idea of the blood, sweat and tears that can go into making just a single WeChat post.
Ok, maybe not blood — but there may have been sweat and tears.
WeChat is actually a very interesting platform for creating content.
Over the past two years, I have personally published and tracked over 1,200 WeChat posts for Official Accounts. And while the process has been excruciating at moments, it has been amazing to witness the platform and user behavior evolve during this short period of time.
People may knock WeChat for being a bit archaic in UX/UI, but in my opinion, WeChat articles offer an incredibly unique opportunity for brands to tell stories in a way that not many other social media platforms can — all while delivering content directly into a user's personal message feed (not to mention the ease at which you can then drive users to your WeChat Mini Program where they can purchase your products/services in just a few clicks while never even leaving the app).
When I talk to Marketing professionals outside of China who can't imagine reaching consumers without the likes of Facebook, Instagram, etc. — to them I say; you have no idea what you're missing.
After hundreds of WeChat posts (some great… and some, admittedly, not so great) I've learned a few tricks of the trade…
Don't copy + paste and call it good
Taking your blog and throwing it into a WeChat post, bolding a few headers and calling it good is not creating quality WeChat content.
If you are determined to use WeChat to post long form content, take the extra time to break up paragraphs, left align headings, add in some formatting to make your key points stand out.
Here are some very simple, easy-to-create examples: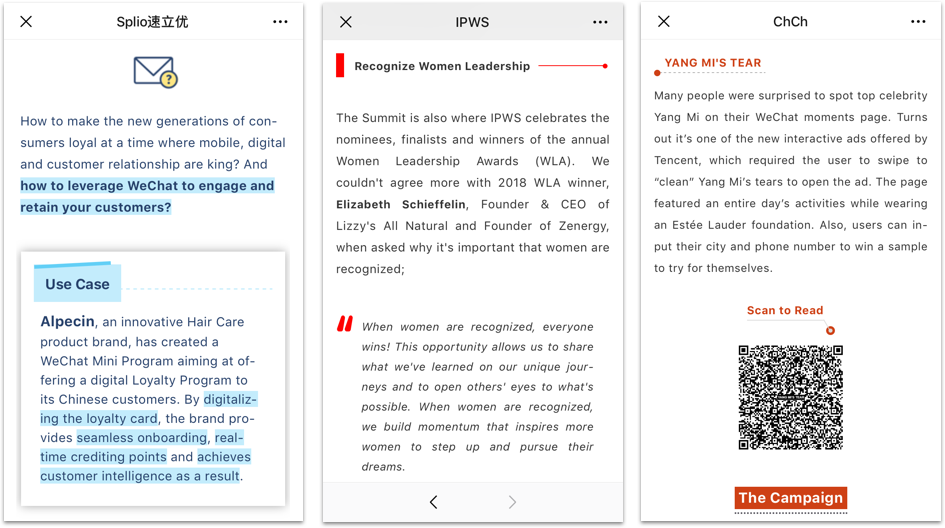 Pro Tip: If you copy + paste from a Word Doc make sure you double check that your text hasn't formed any mega-words, for some reason this method seems to eliminate spacing between words. If you're on a Mac, Pages seems to take care of this issue.
Less Is More
Don't get carried away! The first time you take a browse through a 3rd party editing software platform like Xiumi can feel like you've been let loose in a candy store.
Pull in the reigns.
I know it's hard because everything looks so cool and fun, but trust me, less is more (unless we're talking about whip cream).
I've seen some top name brands get carried away with using way to many graphics. This is overwhelming on a small screen & distracts from the message you're trying to get across.
Limit yourself to a few elements that fit with your brand. Or if you're still having a hard time trying to narrow things down, use highlighted text and emojis as a way to direct attention and make key information stand out.
Pro Tip: Once you find something you like using Xiumi – edit the color and save it to your account for next time.
When possible don't use text within images
It can be tempting to create your entire post using a design software like Photoshop or Sketch, but I'd caution against this for a couple reasons;
SEO: Yes, WeChat SEO is a thing. I can't tell you how many times I've witnessed colleagues, friends and people on the metro (yes, I'm that person on the Metro looking over people's shoulders to see what they're doing on their phone) search for keywords within WeChat. Text embedded into an image won't give you any advantages here.
Extracting information: If someone needs to copy an address or a code, or even an awesome sentence you've included in your WeChat post — tough luck if that text is within an image. You'll want your readers to be able to easily access information you're providing.
Assume People are not reading
You've heard it before — though you may not have been paying attention; our attention span is now less than that of a goldfish.
Rule of thumb — assume people are opening your post and reading 1% of it.
If you have important information such as, how to purchase tickets, or when to sign up for an event… repeat that information, bold it, make it painfully obvious.
Repeat that information.
Make it obvious:
Insert QR codes & 'read more' links
Use emojis
Highlight text
And remember to always check the WeChat backend for all the people who still missed the important info and send you a question or leave a comment.
Leverage WeChat Groups
I don't just hear it through the grapevine, I know first hand that read rates are dropping. No matter how beautiful your content looks, how enticing your campaign is — you still have to deal with the fact that it is harder and harder to get your content underneath someone's thumb.
How do you deal with this? Leverage group chats.
What do we do when there is too much content? We turn to sources that aggregate content we are most likely to be interested in, whether it's done by an algorithm or a person.
WeChat allows users to create chat groups with up to 500 people in each group. Groups are typically created to serve a particular interest where participants share relevant dialogue and resources.
Start by creating groups based on your products/services and don't forget the golden rule of marketing — serve, serve, sell. Start conversations, invite people to share useful information and occasionally share your content.
Groups can be a great way to get customer feedback, build relationships with customers, gauge the temperature of your target audience and spread content. But tread carefully, set clear expectations and provide value.
**Recent Update
In WeChat 7.0.5 you now have the option to select an entire WeChat Group to share a Moments post with.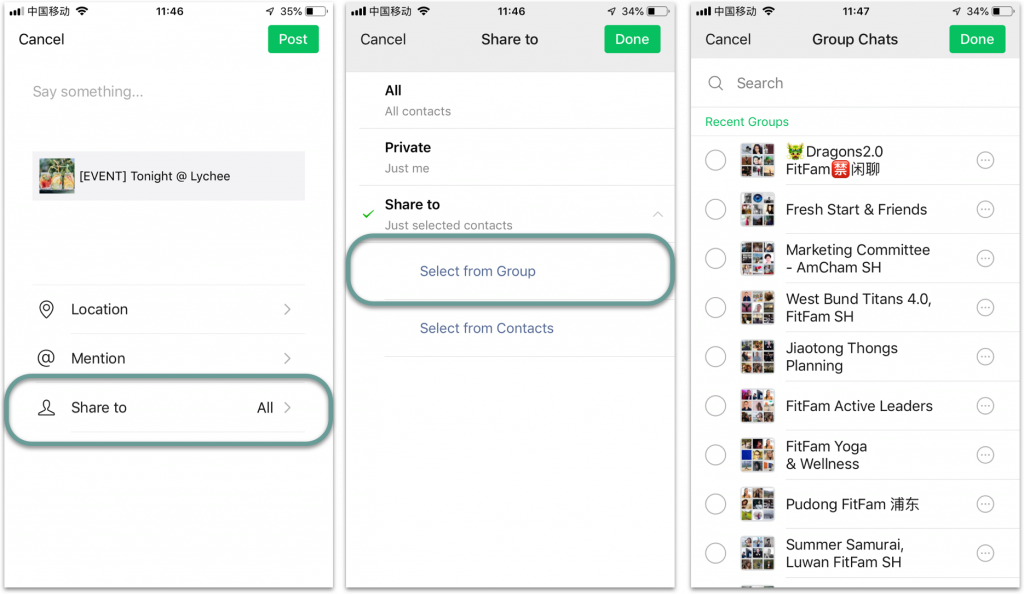 Previously you could customize who saw your Moments post by going through all of your contacts and manually selecting contacts one by one, with the option to save a certain selection as a List for future posts.
Why is this important :
It makes WeChat Groups more interesting – recently many people have been noticing how powerful group chats are to leverage mini program sharing, and drive group buying – now Group chats are also a can also dictate how your feed is curated.
ALSO it may crack open the "Walled Garden"
WeChat Moments posts can only be viewed by people who you are connected with – if you are allowed to share to an entire Group, and it is visible to everyone in that group, it means for the first time WeChat would be allowing people who are not connected to view your posts haven't confirmed if this is indeed happening yet
But all of this won't matter unless you know what you are using your WeChat for in the first place.
Have a clear objective
Are you using your WeChat to:
Promote events?
Build community?
Drive conversion?
Share thought leadership?
It can be one, or multiple — but your WeChat should NOT be a repository for content you have shared on your website or other social media channels.
Remember, WeChat shouldn't be a barrier to creativity for your brand — it should be looked at as an opportunity to create fun and engaging content.