WeChat Article / Content: an epic guide
Contents
From their Official Account, brands and businesses can push only one content type which is framed by WeChat rules: a WeChat article.
This WeChat-powered content is a HTML page hosted by WeChat which offer quite some flexibility in terms of design and layout in order to engage and convert readers.
1. 101: How can brands attract attention to their WeChat articles? What is WeChat content design options, format & layout? How can WeChat Articles be optimized to convert better?
What is a WeChat Article?
WeChat can work a media portal for businesses to broadcast content to their audience. This content is in form of an articles including:
When creating WeChat content, the goal is to make sure people want to read and engage with it.
What Does a WeChat Article Look Like?
Content strategy on WeChat
Tips, tactics and best practices to create WeChat content that converts
When creating content for WeChat, it should optimize to generate engagement and conversion against a defined objective – what do you want your readers to do when landing on your piece of content?
Regulations on the published content
Learn more about the WeChat rules and regulations that any marketing content published in the WeChat ecosystem must comply: + WeChat Rules and Marketing Restrictions
All in one place – essential reports to learn the basics
---
---
How to create, format and design WeChat Article – Further readings
---
2. The Elephant in the room: WeChat content is increasingly challenging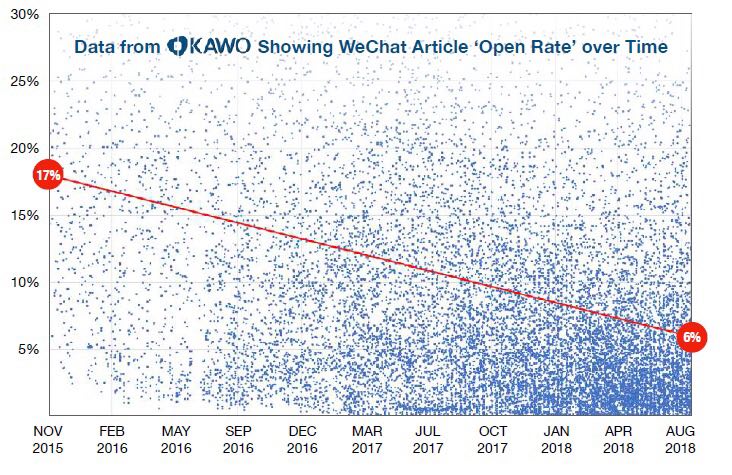 3. Publication and review Calendar to broadcast relevant information in the right timing
4. Updates and timeline on WeChat Article design and creation
Date
Updates
Source
July 2020
Be able to associate up to 3 tag to a WeChat Article

Improving the discoverability within WeChat – The creation of tag allow readers to easily get all the information for a particular topic.

Can add up to 3 hashtags at the end of an article even the ones previously published
When clicking on a hashtag, users is taken to a list of other articles using the same hashtags as well as how many articles used the #.

Note: Only original articles can add hashtags
Linked – Arnold Ma
June 2020
At the bottom of a WeChat article, 2 new options to engage have been added in addition to 'wow':
– 'share'
– 'like'

A user can engage with an article without sharing it or without his/her friends to see what he/she has read and mark as 'wow'

This has been a popular demand since many users do not wish their friends to see what he has read due to privacy issue. Like is a perfect feature that let users engage with the article without sharing it.
May 2018
By clicking on the author's name (either at the top of the article on the name or at the bottom of the picture), the user is taken to a page with some basic demographic info about the author and other articles from him/her.

Reinforcing position in favour of content creators
LinkedIn – Oilivia Plotnick
December 2017
Improving the readability of the Wechat content cover
Kawo
5. Data to put perspective in the content strategy
| | | |
| --- | --- | --- |
| Date | Updates | Source / more details |
| January 2018 | In the past 3 years WeChat article engagement has dropped from 17% to 6%. There's now 15 million sub accounts compared to 1.5m | Graphics |
Access to more data and insights on WeChat: + WeChat data, insights and statistics: user profile, behaviours, usages, market trends
Updated on 2020-08-03
Help us to improve this page!
Outdated information? Exclusive insights? Share with us what is missing!
Submit updates