Tencent's WeChat Mini Program has been a huge hit as soon it launched in 2017. Known as the "app inside an app", WeChat Mini Program is considered revolutionary for how it has made marketing and communicating with customers easier for big brands and local shops alike. This technology offers all the capabilities to smoothen WeChat-based o2o interactions in order to drive business.
According to recent report, there are over 2.3 million active Mini Programs and over 230 million daily active users of Mini Programs.
The majority of Mini Programs are discovered through social sharing on Moments of the user's social network, however in offline scenarios, just a quick scan of a QR code opens the store's Mini Program in WeChat to make it convenient for users. Mini Programs let users take advantage of a wide range of functions including online shopping, purchasing movie tickets and customer service support just to name a few. And one of the main reasons why WeChat Mini Program has been praised so highly is due to its ability to drive O2O business.
What is o2o?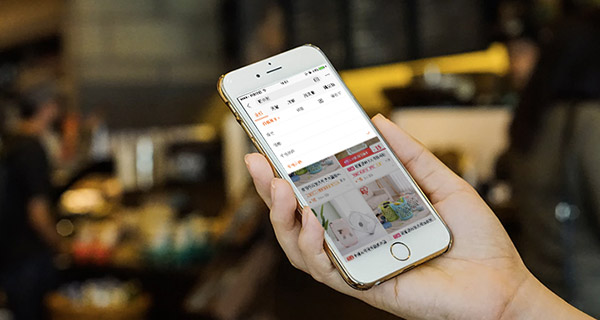 Put simply, O2O (online-to-offline) is a business model consisting of any interaction that starts online and ends offline. Customers begin their shopping journey online (doing researching, browsing for items, or making purchases of goods or services) and complete their shopping journey offline (picking up the ordered items in store or receiving a service in person).
Businesses looking to push in-store sales, encourage more in-person usage of services or increase foot traffic to their brick-and-mortar shops can benefit from using WeChat Mini Program's seamless integration.
So WeChat o2o are this kind of interaction made it possible thanks to WeChat ecosystem. Further in this article, we will focus on WeChat o2o interactions using Mini Program technology.
Leveraging WeChat Mini Program for o2o
Chinese millennials have the highest adoption rate of new technology, smartphone ownership, and lowest saving rates; it's no wonder why they're considered the driving force of o2o business.
In order to cater to this large population of consumers, more and more brands are looking to WeChat Mini Programs to drive their o2o business strategy. Especially with the ease in which customers can access the brand's unique storefront without ever having to leave WeChat, the social messaging platform that had over 1 billion daily active users in 2019.
WeChat's card and coupon integration makes it possible for o2o models to flourish within Mini Programs. The card system is basically a membership management system that allows brands to manage and optimize WeChat followers and customers.
After customers make a purchase via WeChat Pay, WeChat Service Account will send a message with the membership card requesting customers to fill in more detailed information.
The additional demographic information can be beneficial for optimizing o2o location-based services such as recommending close-by stores. The coupon system lets retailers send coupons or offer discounts to their existing customers for their next offline purchase.
How to incorporate WeChat Mini Programs into your O2O business model
Make it convenient
Streamlining the purchasing process is a necessary means to keep up with today's busy and on-the-go society. Businesses are doing what they can to integrate O2O strategies into their business to make the shopping journey as smooth and painless for their customers as possible.
WeChat can be used to elicit better travel retail sales. For example, upon landing in an airport, international stores can push location-based WeChat ads to customers or offer an easy solution to travel shopping.
DFS Group did just that when they built an o2o Mini Program store allowing customers to browse and purchase items online, and picking up the items when they get to the airport or nearby DFS location. This not only saves the customer's time but allows them to make better informed purchasing decisions.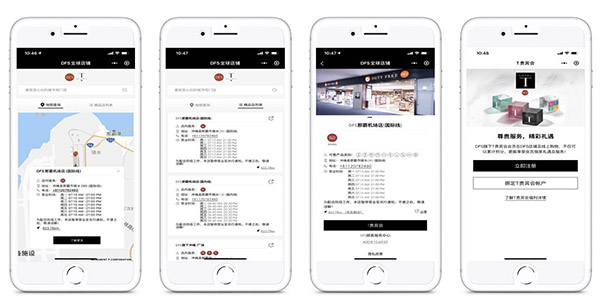 Use incentives
Generate future sales by providing incentives for existing customers to return and new customers to join. Online coupons and discounts for existing customers are easy to implement into a brand's O2O business strategy with the use of the aforementioned WeChat card and coupon system.
These online coupons and discounts can be used during in-store purchases. Within the store's Mini Program, there can be different promotions and discounts that customers can take advantage of.
For example, Wal-Mart's Mini Program offers coupons to new customers, provides free delivery for orders over 169 RMB (approx. 24 USD) and next-day delivery to locations within the city.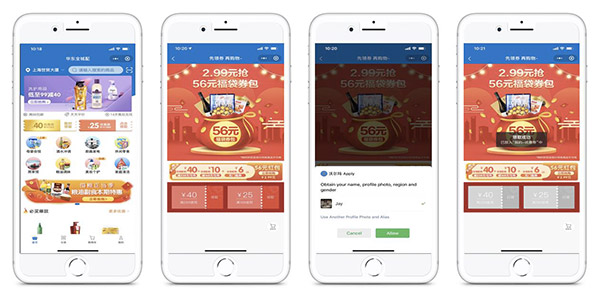 Additionally, Wal-Mart's Mini Program also offers incentives such as special Brand of the Day deals, Flash Sale campaigns and the scan & pay functionality allowing their customers to scan the QR codes on the items to pay online.
Provide store-to-door services
Take O2O services to the next level by bringing retail goods and services right to the customer's door. WeChat Mini Programs can also be used to facilitate online customer service assistance to products and appliances purchased online.
Smart retailer, Suning has turned to WeChat Mini Program to implement O2O services as a part of their omni-channel retail ecosystem. Suning provides same-day delivery services for its stores and supermarkets, offering free delivery for orders over US $12.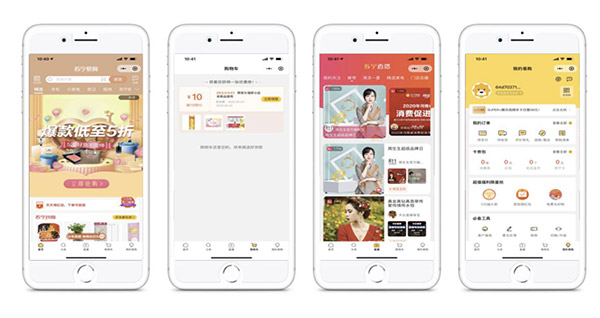 What's more, locations within a 3km radius will receive their order within one hour, and those within a 1km radius in 15 minutes.
In addition to same-day delivery, Suning's O2O strategy includes on-demand services that can be accessed and scheduled online, such as live streaming, home appliance repair services, housekeeping services, phone repair services and more.
Loyalty program and e-wallet
This ease of use makes it easy for businesses to integrate their loyalty program into Mini Programs, giving businesses the ability to better engage their members by providing incentives such as a points-based reward system, coupons, birthday offers and more.
For example, popular cafe chain, Wagas, uses their Mini Program to allow users to quickly collect points using the QR code linked to their loyalty program, keep track of the points they have accumulated and redeem rewards.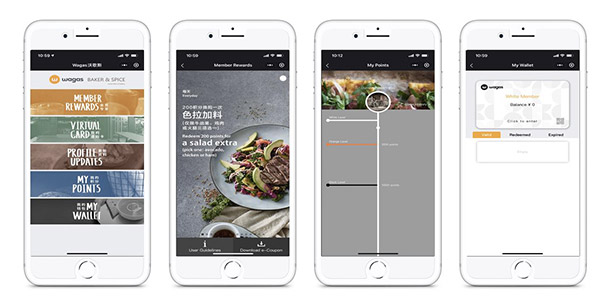 In addition, with WeChat's e-wallet, WeChat Pay, customers can start and end their shopping journey all within WeChat.
To conclude about WeChat o2o interaction using Mini Program technology
As mobile technology increasingly immerses into every aspect of day-to-day life, businesses are turning to omni-channel marketing strategies for the answer. Although the online market has taken the retail world by storm, brick-and-mortar stores still hold great value.
Leveraging the future of apps, Mini Programs, to drive O2O business does not only indicate an understanding of consumer needs but also demonstrate the willingness to provide solutions for those needs.