After WeChat Article and WeChat Channels videos feed, le'ts dive into another form of content available within the WeChat ecosystem: live streaming on WeChat.
Live-streaming is a very increasingly popular medium among certain groups of people (e.g. teenagers) in China through:
dedicated APPs (Yingke)
short-video platforms (Douyin, Kuaishou)
eCommerce platforms integrating this capability (Taobao, Jingdong, Vipshop, RED/Xiaohongshu)
This form of content creation is mainly used by WeChat KOL/influencer and brands to interact with their audience.
Taking the curve of the fast-growing market size of online live streaming (it will reach around 112 billion yuan in 2020 according to the forecasts), the WeChat team have provided brands with tools to easily and cost-effectively realize a live broadcast leveraging:
the WeChat social features
the online users preference to hear about their favourite brands through WeChat
Live streaming contents can help conversion depending on your:
the type of products or services to promote
the target audience
1. Introduction to WeChat Live Streaming
What is the live stream on WeChat?
Functionalities and channels within WeChat to do a live broadcast
A few industries (graming, e-commerce to name a few) are active in live video broadcasting because:
the size market is growing (fast)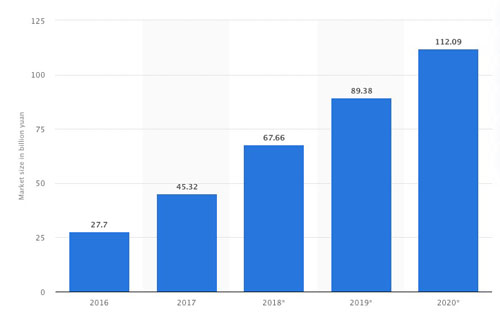 this distribution channel has proven tangible results.
A few data to support this result:
Source: iResearch

63.2% of users watched live streaming to relax
50.5% of live streaming user would make comments, over 40% of them would like it, reward hosts (free-to-play), and share videos to others
86% of live streaming users thought positively about live streaming marketing. Among them, those younger than 24 years are more likely to be attracted by new products release and buyer's sharing.

Source: Alibaba

In 2018, Taobao's live broadcasting platform Taobao Live delivered more than 100 billion yuan sales of products, a year-on-year growth rate of nearly 400%.
In 2019, Taobao Live brought 20 billion RMB sales during Double 11.
A total number of 81 live rooms on Taobao Live reached 100 million yuan sales; a total of 5 organizations broke 1 billion yuan sales.
Taobao Live aims to deliver 500 billion yuan sales in the next three years.
How does it work?
There are several solutions to enable brands and businesses to do live streaming within WeChat.
Brands can:
set up their own WeChat-based broadcast channels (more details 👇👇👇👇)
collaborate with a 3rd party WeChat influencer with a relevant fanbase to host a live streaming session which doesn't require technical development resource
Live streaming via a branded Mini Program
Live streaming component to integrate into a custom made Mini Program. It's a templated feature.
Tencent releases a live streaming capability to be integrated into a WeChat Mini Program (MP) in 2020.
This feature can be relevant for eCommerce type Mini Program.
The brands can link from their Mini Program where the live streaming is happening to their branded online shopping channels so that the user is taken directly to the product page to buy.
Owned WeChat Mini Program shop
JD shop
Weidian
Reading further
Via Tencent live stream platform – How to live stream on an Official Account?
This broadcast utilizes the combination of a native mobile APP (admin side) and a WeChat Mini Program (user side).
User side: the Mini Program technology to book, watch and interact
This Mini Program is called: Tencent Live Mini Program / 看点直播.
Supporting audio and video broadcast
The brands can create a link from the Tencent Live Mini Program where the live streaming is happening to their branded eCommerce Mini Program so that the user can start shopping.
Admin side: the native mobile app to set-up and operate the live broadcasting
The Native mobile APP called: Tencent Live App / 腾讯直播APP, available on Android and iOS.
The account on this platform can be linked to the WeChat Official Account (OA). Then the OA operators can create a live stream channel.
Functions available:
generate a Mini Program code to be embedded in a WeChat Article or to be shared in the chats
set specific viewers as the admin for the purpose of monitoring
gamification management: lucky draw, hongbao, coupon
Reading further
Traffic entry points
How brands and businesses can drive traffic to the live-streaming
Via the WeChat Brand Zone
The Brand Zone can be configured to promote the upcoming official live-streaming session with a native live-streaming booking feature.
In the live-streaming appointment management support, users get notified as a reminder when the live stream is about to start. User can then access the official live streaming Mini Program easily from the brand zone.
Via a WeChat Article
A live streaming card can be embedded in the WeChat Article.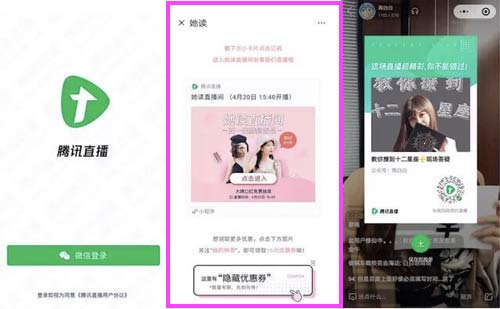 via Moments or direct conversation
The live streaming link can be shared on WeChat Moments or to WeChat Group / Individual chatting thread.
2. Case studies
3. Updates and timeline on live streaming capabilities on WeChat
Date
Updates
Source / more details
Early 2020
[Feature in testing phase] WeChat is releasing the capability to integrate live streaming into your own Mini Program. This feature is offered to selected eCommerce Mini Programs only by invitation.
March 2019
WeChat launch 2 platforms:
– 1 for WeChat Official Account operators to create a live stream channel
– 1 for WeChat users to book and watch livestreams
---
If you think of some improvements or missing information…

Let's build up the knowledge around WeChat live streaming collectively