In WeChat Team releases a new dedicated space which looks like a video feed for content creators, brands, businesses and individuals to reach a (new) audience beyond their circles of WeChat friends/followers: WeChat Channel / 微信 channels / 微信 视频号.
When designing a WeChat strategy, this new touchpoint can be seen as the convergence of opportunities:
1. Introduction to WeChat Channel
What is WeChat Channels / 微信 Channels / 微信视频号?
This is a new feature within the WeChat ecosystem that allows users, influencers and brands to create and post short-form contents and distribute them through a media feed:
sub-one-minute videos
photos (up to 9 pictures in succession)
In complementary, further information can be added to the post:
several hashtags to define topics – feature to improve discoverability within this channels section
a WeChat Official Account article link – bridge to a Wechat OA
a location
Synonyms that can be found online and offline
WeChat Video Account
WeChat Video Channels
微信 Channels
How does it look like?
It looks like a video feed/timeline where the content creators and short video influencers can share posts with videos and pictures under their personal account or their official account.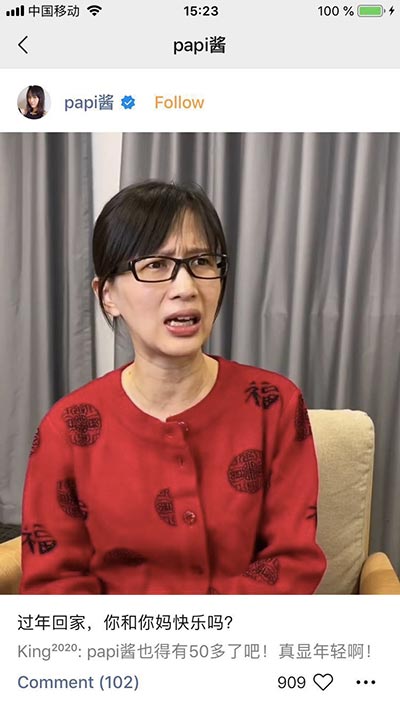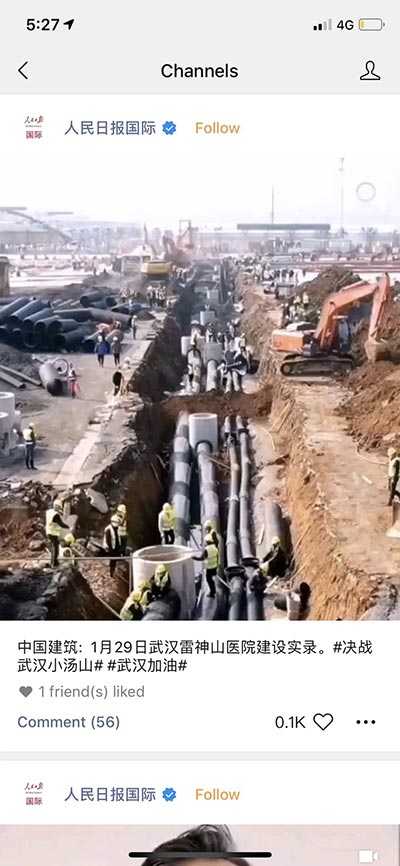 [June 2020] Filtering tabs and location-based filtering have been added in the top navigation bar:
'Follow' tab
'Friends' tab (default tab) = feed with filtered content showing the most liked videos by WeChat friends
'Trendy' tab = feed with content from other account that the user don't follow
Location ping icon = to access a listing of content published by a nearby user
How does it work?
A similar type of feed as the popular short-video Chinese APP called: Douyin (Tik Tok as it's known internationally) or Kuaishou. The users can scroll through the feed infinitely to discover what their friends & their favourite brands have posted as well as content from the other users, influencers and public accounts.
User can like, comment, share a post and follow the publisher.
Sharing options:
Share to a contact
Share to a WeChat group
Share on WeChat Moments
This feed is ruled by an algorithm which displays content not only from your WeChat contact or the WeChat Official / WeChat Video Account you follow but also from the rest of WeChat. From Channels, WeChat users are able to explore content and follow users that are not in their contact and WeChat Official Accounts that they are not following.
So this is considered as a new trajectory to increase discovery on WeChat, which has been a rather closed ecosystem by principle (in terms of privacy settings and discoverability) from the beginning. For example, the other WeChat user feed called Moments is only visible to the user's social circle.
Be able to reach the audience outside of the user's social circle can also increase engagement.
Here are some algorithm factors to determine the content display distribution, which are mainly social signals:
Number of likes = Popularity
Geo-location
Your WeChat friends/contacts' engagements and activities
Followed accounts
The WeChat video Channels algorithm is being iteratively improved with time in order to order to match better with users' interests.
Search function
At the top of the video feed, there is a search bar. This tool provides users with the capability to discover content outside of your followers as well as WeChat's friends and contact.
Users are able to search videos by hashtags.
The search function retrieves 2 types of results:
Sharing mechanism
After a post from the Channels is shared with a friend or in a WeChat group, the shared card in the thread looks very similar to a Mini Program shared card.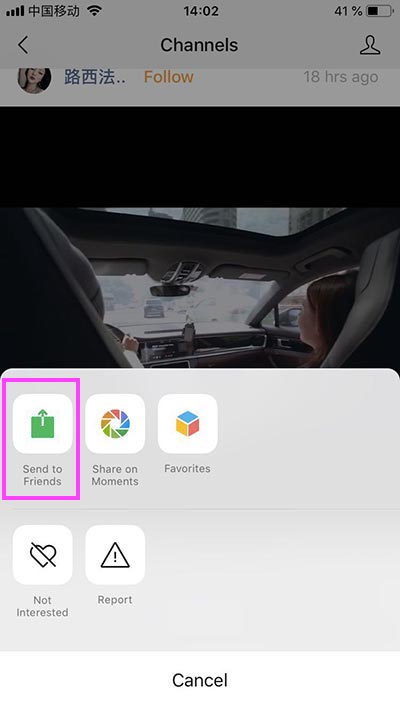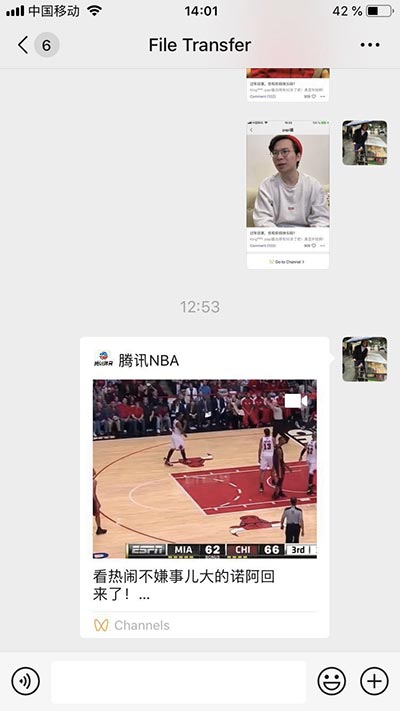 After a post from the Channels is shared on WeChat Moments, the shared link in the feed looks alike a WeChat Article link.
When clicking on the Channels-related Post shared card, the user is taken to a separate landing page where there is a 'Go to Channel' CTA to access back the timeline.
2. How to post on Channels
Pre-requisite: register to be able to post on WeChat Channels
How to register to WeChat Channels to start posting on the Channels timeline
From a WeChat personal account, you can apply to post by clicking on the camera icon on the top right top of the screen: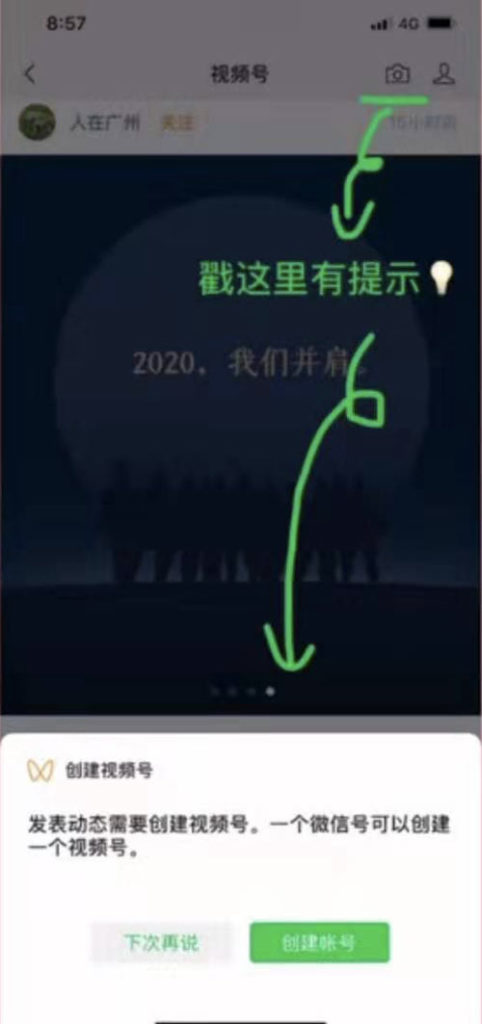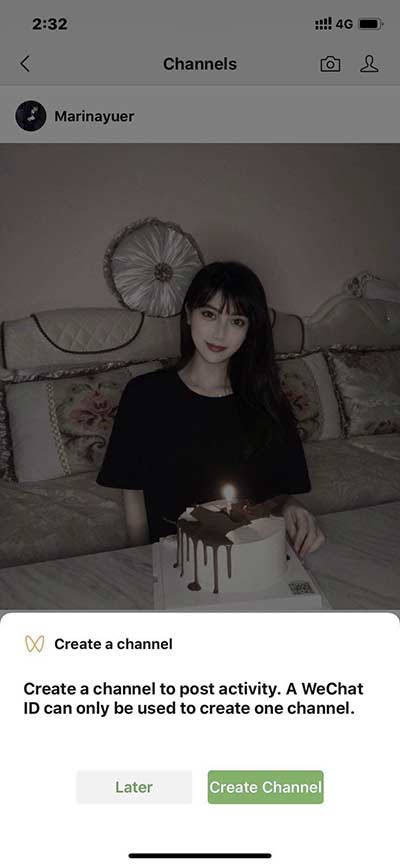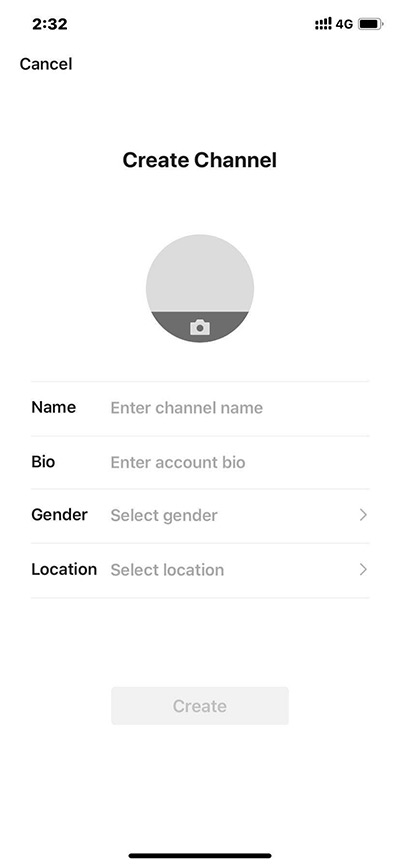 Information to fill in during the registration as your Channels profile:
Name
Brief description
Gender
Location
Once your WeChat video profile/account is created, you are able to start posting.
Functions accessible from WeChat Channels Dashboard:
List of WeChat Channels Account you follow
List of followers
Number of views
List of interactions (comments / likes / notifications) with your WeChat Channels Account
WeChat is rolling out the feature progressively, so this ability to register to post is not open to everyone at the moment:
March 2020: in the testing phase with some brands such as Louis Vuitton
February 2020: publishing privileges have only been extended to KOLs.
January 2020: feature in beta testing
How to post
For now, there are 2 options to post on WeChat Video feed:
upload a short-form video
take a new video
Reading further
3. How to access the section 'WeChat Channel'?
There 2 mains entry points to drive traffic.
From the 'Discover' section
This feature is accessible from the 'Discover' section in the main menu.
The 'Channels' item is just below below 'Moments' item.
'Discover' > 'Channels'
From the sharing mechanism
'Go to Channel' CTA in the landing page after clicking on the Channels-related Post shared card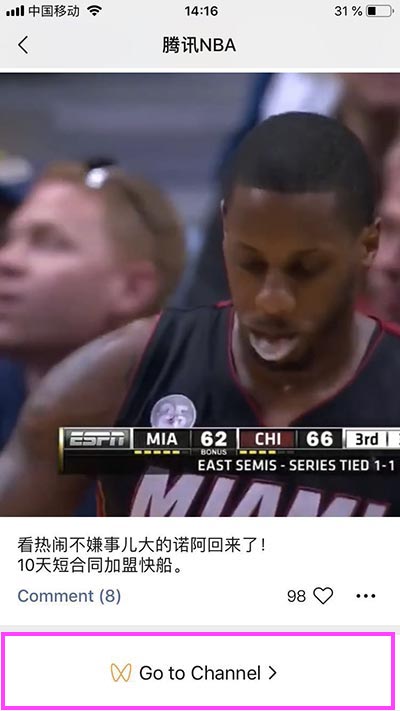 4. How to get a WeChat Channels profile/account verified
WeChat Channels allows a newly created WeChat Channels profile/account to be verified by linking it with an existing verified Official Account.
There are 2 types of verification level:
Personal verification
Corporate verification
Companies like Tesla and Louis Vitton have created Channels accounts
Corporate verification
Go to Channels account dashboard
Access the settings menu by clicking on the '3 dots' icon
Start the linking process by clicking on the 'Verify' icon
Choose 'Corporate verification'
A QR code is generated (expiration time: 1 hour)
A verified Official Account Admin (not an Official Account operator) must scan the QR code
Done !
WeChat Channels dashboard

Settings

QR code to scan
5. Updates and timeline on WeChat Channel
Date
Updates
Source / more details
July 2020
[Feature in internal testing]
– WeChat Channel content appears on WeChat Moments helping to spread the content.

– Videos published on WeChat Channel have Original Content protection.
All the videos re-shared will include a source link to protect the author.
Newrank
June 2020
[Data about the user base or engagement] 200 millions Daily Active User
March 2020
Louis Vuitton is the first luxury brand to launch on WeChat Channels.
screenshot
January 2020
The feature rolls out progressively. As the feature is still in beta testing, only certain users are able to view and/or enjoy this function at the moment
December 2020
[Feature in internal testing]
Technode
---
If you think of some improvements or missing information…

Let's build up the knowledge around WeChat Channels collectively