About to advertise your products ou your services on WeChat? Let's guide you through WeChat advertising cost, ad display formats, targeting criteria, regulations and tactics to take into account in your media buying strategy. Advertisers and marketers can buy advertisement spots on WeChat Moments, WeChat Official Account and WeChat Mini Program.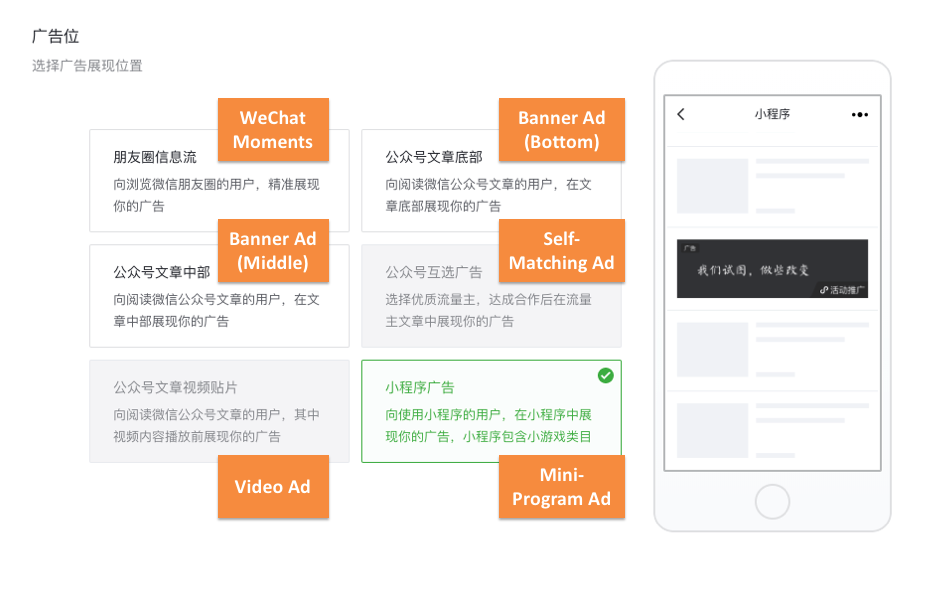 1. 101: How does paid advertising work on WeChat? WeChat Advertising Cost? Requirements? Formats? Regulations?
What is WeChat Advertising?
WeChat advertising is the Tencent program enabling brands and businesses to promote messages on defined touch points of the WeChat ecosystem in order to capture the attention of Chinese consumers.
WeChat ads enables companies to achieve their objectives:
download an APP
attract new followers
drive offline traffic and sales
Types of display offerings
WeChat offers 3 main placements of advertising:
WeChat Moment Ad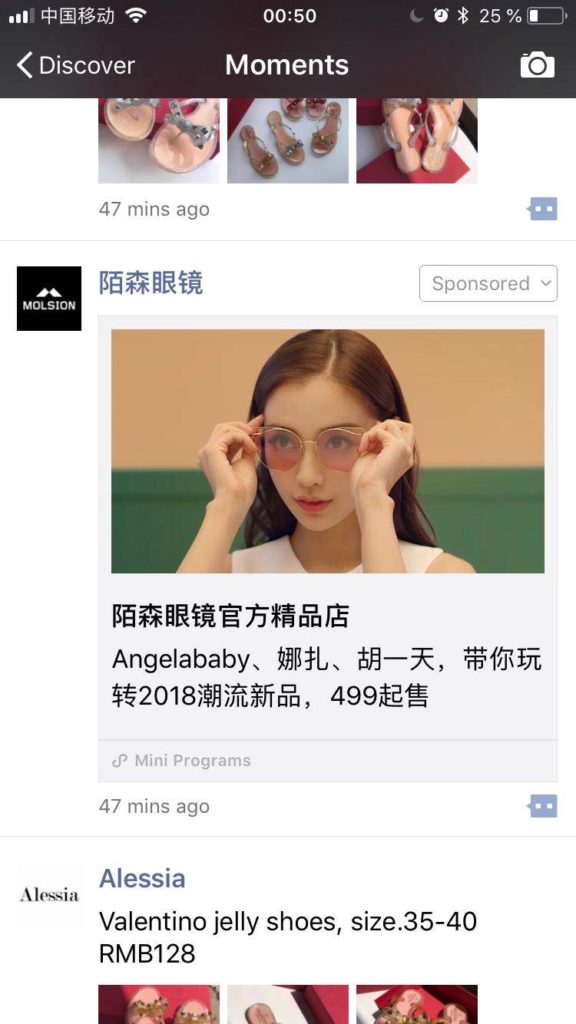 ---
Banner Ad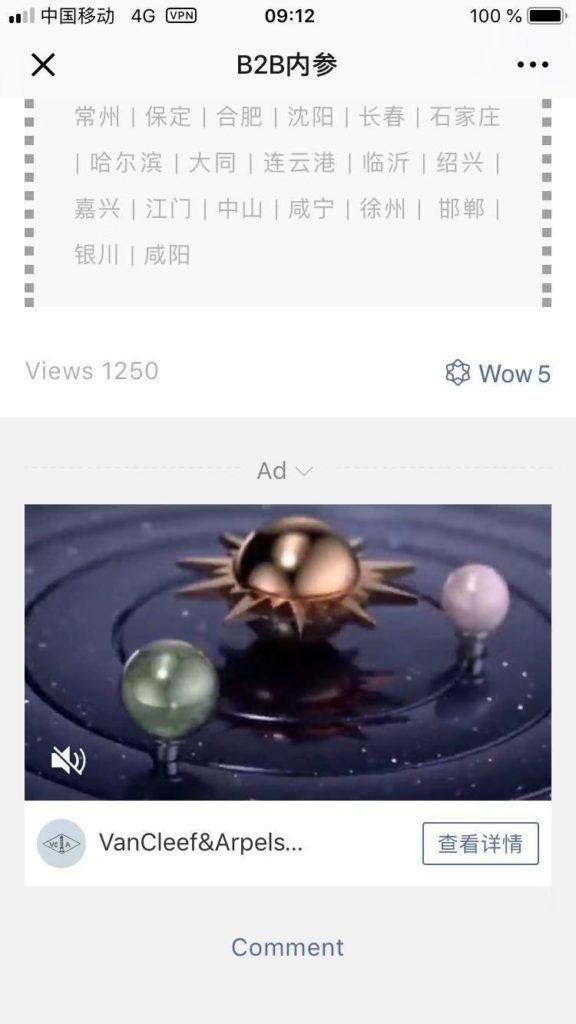 ---
Mini Programs Ad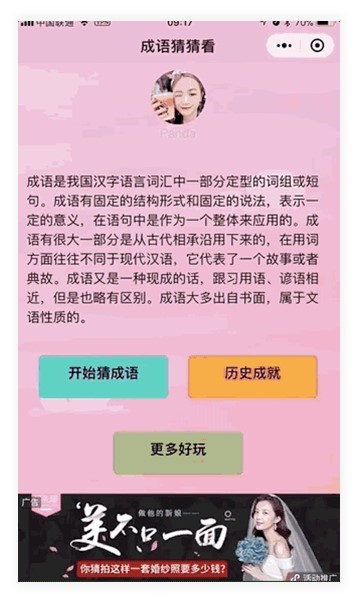 ---
Besides WeChat Ads, another way to promote a brand or a service is through WeChat influencer which involves mutual collaboration with influencers/bloggers to push conversion
Further readings
Advertisement display formats
Ad displays on WeChat Moments
There are 3 formats available:
Media (image/video) + Ad's description + Link(s)
Media (card image/video) + Ad's description
Special format
Sponsored Ads on WeChat Moments are composed of:
Brand's WeChat Official Account name along with a profile picture
Media:

Image(s): up to 6 pics
Video: 6-15 seconds short video
Cover image

Ad's description: text of up to 40 characters
Link(s) to

a WeChat H5
a WeChat Article
a WeChat Public Account
a Mini Program for further action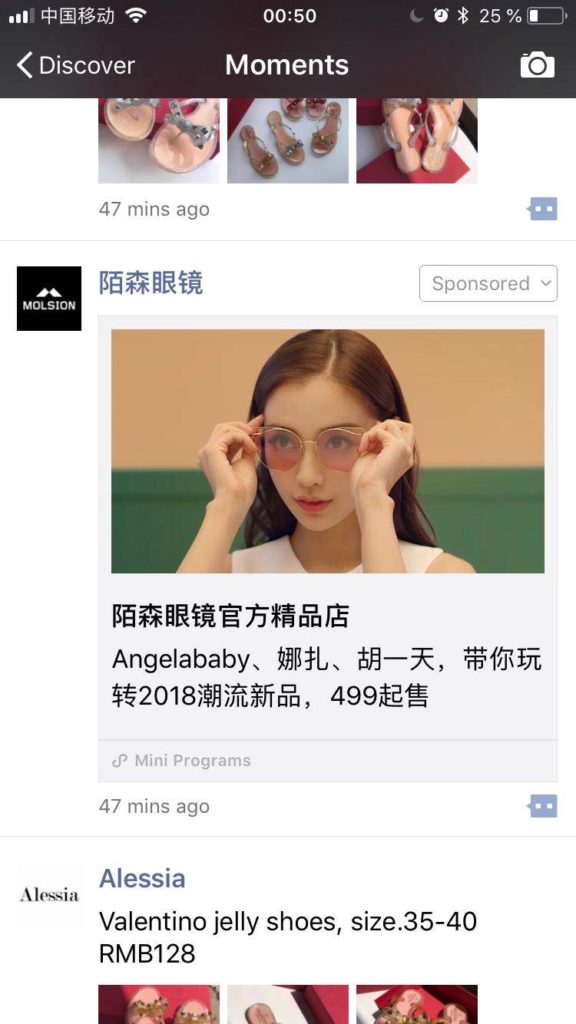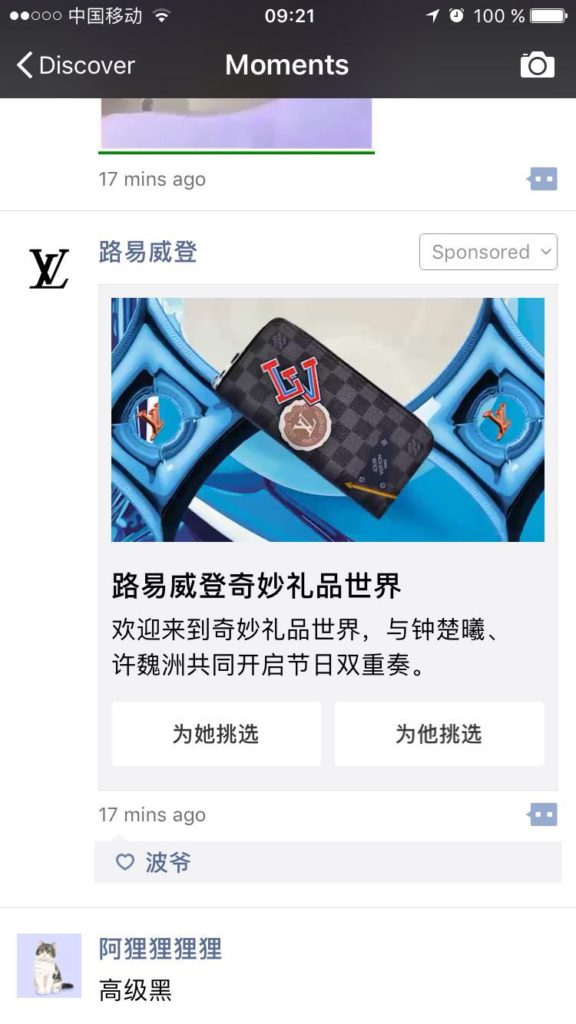 Banner Ad displays
Different Ad banner versions can be found in 3 promotion channels. The layout varies from one channel to another:
Standard banner version Ads in WeChat article – they are displayed in 3 locations:

at the bottom of WeChat article
at the middle of WeChat article
Pre-roll of a video within WeChat article

Mini Program banner version Ads

at the bottom of a Mini Program page
as a pop-up within the mini-program
Interstitial/Incentive ads covering the entire screen and are shown to users during transitions within the Mini Program (for example when opening it, or after losing or completing a level in a mini-game)

KOL banner version Ads – this format will be detailed separately
How much does it cost to advertise on WeChat?
Here are more details on WeChat Advertising Cost for each channel.
WeChat Moment Advertising Cost
As of 2018, the WeChat Moments Ads use the CPM (= cost per thousand impressions) pricing model through two schemes:
Real-time Bidding scheme

Company targeted profile: looking for flexible advertising times
Minimum investment per wave: $160 / ¥1,000

Scheduled scheme

Company targeted profile: companies with a pre-defined media buying calendar
WeChat advertising cost depends on the advertisement's launching area, which is categorized into three groups: core cities, large/key cities, and other cities.
Minimum investment per day: ¥50,000
Core cities
Large/key cities
Other cities
1st Tier cities: Guangzhou, Chengdu, Shenzhen, Hangzhou, Wuhan
2nd Tier cities: Suzhou, Chongqing, Nanjing, Tianjin, Xi'an, Shenyang, Changsha, Qingdao, Ningbo, Zhengzhou, Dalian, Xiamen, Jinan, Harbin, Fuzhou
3rd Tier cities in mainland China
CPM = cost per thousand impressions
| | | |
| --- | --- | --- |
| City size | CPM of Picture Display Ads | CPM of Video Ads |
| Core cities | 150RMB/21.8$ | 180RMB/26.19$ |
| Large cities | 100RMB/14.55$ | 120RMB/17.46$ |
| Other cities | 50RMB/7.28$ | 60RMB/8.73$ |
3 budget levels depending on the displayed content:
| | | |
| --- | --- | --- |
| Pricing level | Pictures? How many? | Video? How long? |
| 50,000RMB/7,275$ | Yes / only 1 | No |
| 100,000RMB/14,551$ | Yes / 1, 3 or 4 | Yes / 300" or 6" for external link |
| 500,000RMB/72,755$ | Yes / 1, 3, 4 or 6 | Yes / 300" or 6" for external link |
---
In case you are targeting Chinese located overseas: Ads can be geo-targeted to audiences in over 40 countries
Minimum budget:
| | |
| --- | --- |
| Country & Region | Minimum CPM entry cost |
| Hong-Kong, Macau, Taiwan, Japan, Korea, Malaysia, Singapore, Thailand, United States, Australia | 50,000RMB/7,275$ |
| France, Germany, England, Italy, Canada, New-Zealand | 10,000RMB/1,455$ |
with CPM = cost per thousand impressions
| | |
| --- | --- |
| CPM of Picture Display Ads | CPM of Video Ads |
| 150RMB/21.8$ | 180RMB/26.19$ |
(Source: Daxue Consulting)
---
Learn more about WeChat Moments advertising cost here: + Advertising on WeChat Moments: cost, ad formats, targeting and rules
WeChat Banner Advertising (Standard version) Cost
Minimum CPM entry price = ¥50,000/$7,275 (for both local companies (including WFOEs that are registered in mainland China) and foreign companies)
with 2 types of pricing model
CPM = cost per thousand impressions based on a Scheduled scheme
CPC = cost par click based on a Real-time Bidding scheme

CPM varies among the 3 tiers of cities (city size)
Core cities
Large/key cities
Other cities
25 RMB/3.64 $ per thousand
20 RMB / 2.91 $ per thousand
15 RMB / 2.18 $ per thousand
CPC – from from 0.5RMB/0.07$ per click
(Source: Daxue Consulting)
2. Moment Ads targeting options
Location: supports province, city or district (based on the location of user during the previous month) Gender & age: gender and age from 5 to 60 years old
Mobile phone: targeting by OS (iOS, Android) or type of network used
Marital status: single, married, newly married or raising a kid
Education level: PhD, master, bachelor, high school, primary school
Interests: 18 categories and 122 sub-categories. 18 core categories are education, travel, finance, cars, real estate, furniture, fashion, F&B, personal services, professional services, cosmetics, home electronics, sports, health, child education, bags, watches, shoes, jewellery, politics and law, luxury goods, drinks, Internet, entertainment
WeChat behaviour: currently following your public account, already using your APP, collected a WeChat coupon from ads within the past year, showed interest in your previous ads during the past year, remove users who are not interested in your content
Lookalike audience targeting | March 2019 [Splio] – lookalike targeting uses a known "high quality" population – typically existing customers – as a basis for advertisement targeting. Instead of fixed arbitrary criteria such as gender, location, age, education etc. An algorithm analyses this seed population and builds a target audience of similar people by finding common criteria between their profiles.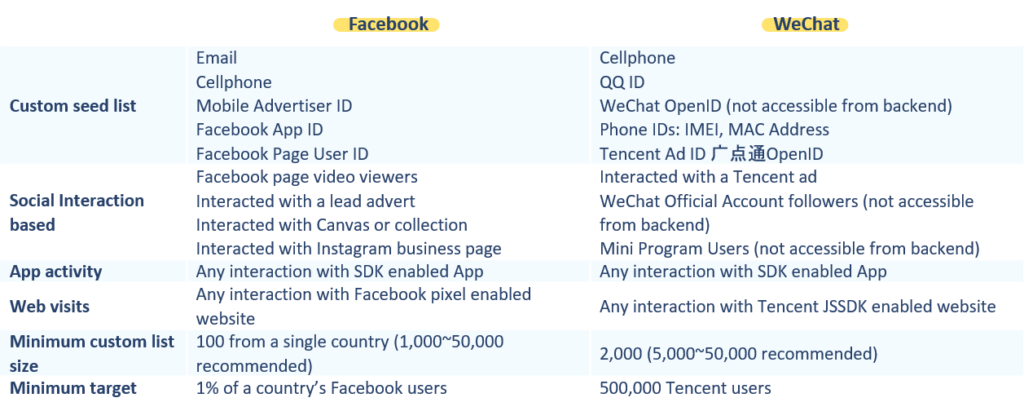 3. Regulations to comply
The rules and requirements apply to each specific industry can be found on WeChat official website.
4. Tips, tactics and best practices to promote brands efficiently
---
5. Case studies
Hermes Campaign: More granular targeting of WeChat Moments Ad leveraging data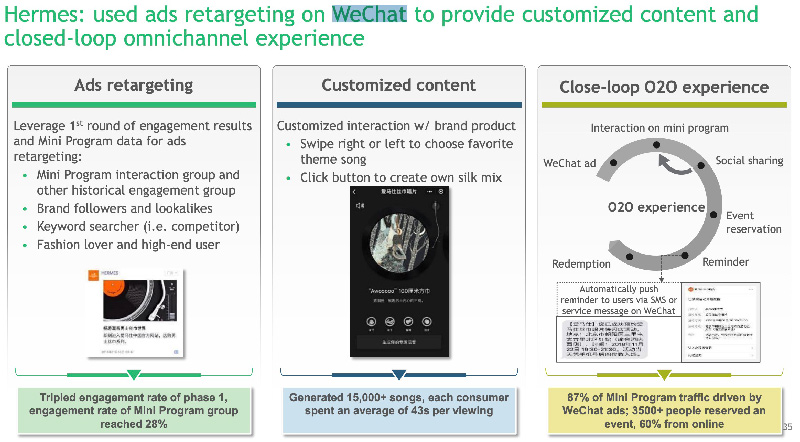 6. Updates and timeline on WeChat media buying capabilities
Date
Updates
Source / more details
May 2020
WeChat launch a Ads Combo feature.

The "combination ad set" allows business to apply one key visual asset (photo or video) to both Moments feed ads and Mini Program ads at the same time. This new format maximizes ads exposure through multi-formats and channels for high returns with relatively fewer investments.
Fabernovel
May 2019
Show 3 WeChat Moments Ads per day (instead of two) for Chinese users in Tier 1 cities (only)
– more visibility for brands and more revenue for Tencent
Twitter – Matthew Brennan

kr-asia
April 2019
After a testing phase started in November 2018 –
Tagging function for Ads on WeChat Moments is now automatically available for all paid Ads on Moments. When tagged, your friends get notified.
Technode
March 2019
WeChat improve the advertising targeting options (similar to Facebook's feature): Lookalike audience targeting
Splio
November 2018
WeChat moments Ads can now directly open Mini Programs


screenshot
November 2018
1 – [Testing phase] Tagging function for Ads on WeChat Moments:
(in testing phase with some brands including Ferrari and KFC) be able to tag friends on WeChat moment Ads, which allows a higher and more qualified engagement with the Ad.
– According to Tencent, Ferrari's moment Ad, the first to benefit from the tagging, received 50% of its traffic from the tagging alone.
2 – Display number of how many of your contacts "might" have seen the Ad.
腾讯广告
1 – tag friends
2 – impression count of contacts
May 2018
New Ad format with Image + Headline + Description
– When clicking on the Ad, the user is taken to Mini Program (e-store)
screenshot
April 2018
Allowing users to purchase products or visit online stores by clicking on Ads in their Moments feeds
JobTubeDaily
March 2018
1 – WeChat Mini Program Ads
– banner Ad slot at the top or bottom of each Mini Program which links to the Mini Program being advertised
2 – WeChat finally decided to show 2 WeChat Moments Ads per day (instead of 1)
– The Moments Ads will also be more visible so that brands can reach more customers.
3 – New WeChat Moments Ads formats
Westwin
February 2018
New Ad format (1) as an entry point to a Mini Program.
– When clicking on the Ad – users are taken to a given Mini Program (2).
screenshot 1
screenshot 2

February 2018
New Ad format with Headline + full visual
– When clickign on the Ad, the user is taken to Mini Program
screenshot
December 2017
New Ad format with 2 CTAs
– Depending on if the user clicks on Ad image / CTA 1 / CTA 2, users will directly be taken to different contents (to an external page with images, contents and videos)
screenshot
November 2017
To push on more possibilities on Mini Program, Tencent recently upgraded their Ads structure – Mini App can now also be included into the paid media zone at the bottom of WeChat Push in the display format of a static image.
screenshot
September 2017
Bid on Ad space on the "Mini Programs Nearby" list
> Bidding scheme

Technode

screenshot
July 2017
[Testing phase] Ad positions: more freedom to choose the specific spots where the Ads are displayed
– Give more possibility to marketers on the Ad position in the OA to integrate it better to content
Technode
May 2017
New Ad format
– Instead of simple picture/video Ads, the content is now combined into a clickable card. It can lead users directly to a H5 page.
– Users can now @ the brand to comment on the Ads. Brands can @ back the users to reply to the comments. It's great to increase user engagement and get feedback from the user.
WalktheChat

screenshot
October 2016
WeChat launches mutual selection/two-way-pick banner advertising, aiming to triple advertising revenue by 2018
WalktheChat
2015
WeChat launches WeChat Moments Advertising
7. All in one place – essential reports to learn the basics

---