After discovering the landscape of the media buying on WeChat, let's dive deeper into each channel of paid advertising in WeChat ecosystem.
After the complete guides on how to advertise on WeChat Moments and Official Account, this chapter is focusing on a promising channel for advertising: Mini Programs.
Mini Program channel is capturing the growing amount of traffic. WeChat Platform offers paid media spaces on Mini Program interface. Mini Program with a clear audience category can be considered by advertisers when designing their media buying strategy.
1. A key opportunity for advertisers when buying media on Mini Programs?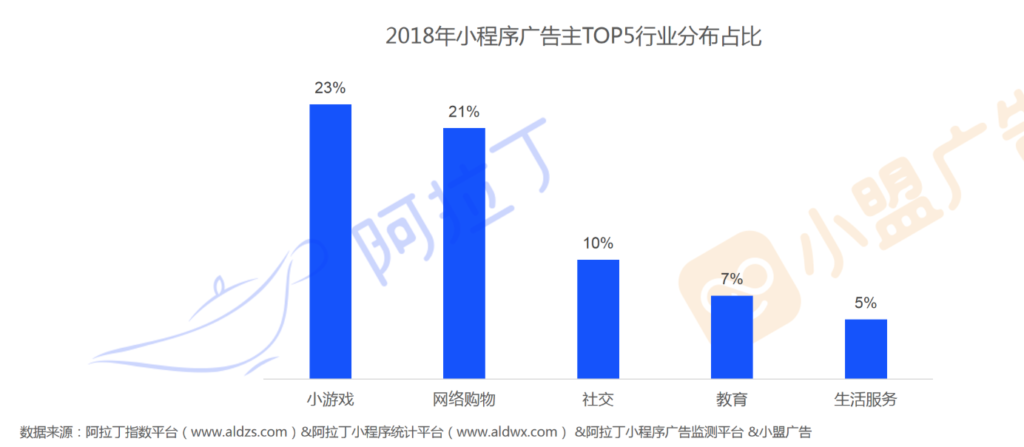 The biggest advertisers on Mini Programs are e-commerce (21%) and Mini Games (23%) companies in 2018.
Further readings on paid media on WeChat Mini Program
2. What is WeChat Mini Program Advertising? How does paid advertising work on WeChat Mini Programs?
Released on Sept. 5, 2017
The advertisements are limited within the Mini Program page
The ads are displayed when browsing a Mini Program or a WeChat Mini Game
Ad unit – placement
Within the WeChat Mini Programs or the Mini Games
3. Rules and requirements to consider when advertising on this ad unit
Cost? Formats? Regulations? Supported WeChat Mini Program categories?
Regulations
The rules and requirements applied to a specific industry can be found on WeChat official website.
Is paid media on Mini Programs open to foreign companies?
Open to:
companies registered in mainland China (including wholly foreign-owned enterprises a.k.a. WFOE)
overseas/foreign companies
Supported WeChat Mini App categories
WeChat supports a variety of Mini Program categories, including games, tools, stores.
Drawbacks on paid media on WeChat Mini Program
Advertisers cannot choose which Mini Program their ads will be displayed. So the WeChat system will help with the matching based on user profiles and the target audience set by advertisers.
4. Display & advertising formats and sizes
Placed within the Mini Program page – Banner format
The owner of the Mini Program configures the location where the ad appears.
There 3 formats (ad layouts) available:
Mini Program banner (Image)
Incentive Ad (Video) – only in WeChat Mini Games
Pop-up Ad (Image)
Picture & text format with an external link to the advertiser's H5 / Mini Program
Text message can be put either on top or at the bottom of the banner.
5. WeChat Mini Program Advertising Cost
Advertisers can purchase Mini Program ads through the bidding system.
Minimum CPC (= cost per click) = ¥0.5/$0.073
Minimum cost per day = ¥50/$7.28
All in one place – essential reports to learn the basics
6. Case study of media buying strategy on WeChat Mini Program
Case study assessing the performance of WeChat Mini Program ads to recruit Official Account followers with a Mini Program advertising as an initial entry point.
The chart as below is comparing the user acquisition costs on different WeChat channels based on a campaign, ran by WalktheChat agency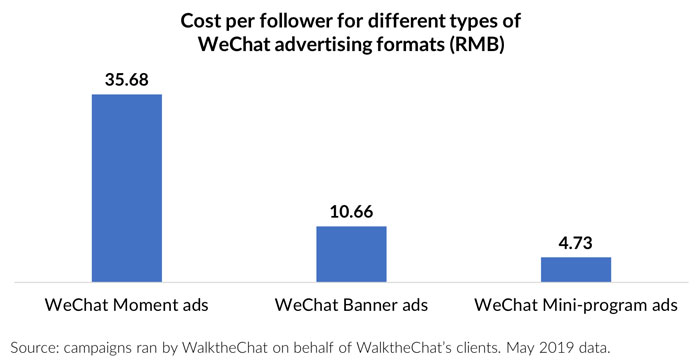 In conclusion, Mini Program advertising significantly outperforms banners and Moment ads.
---
7. Updates and timeline on WeChat Mini Program media buying
Date
Updates
Source / more details
March 2018
WeChat introduces paid advertising on WeChat Mini Program:
– banner ad slot at the top or bottom of each Mini Program which links to the Mini Program being advertised
Westwin
September 2017
[Testing phase] Advertising space to promote a Mini Program in the "Mini Programs Nearby" list
Advertisers can promote their Mini Program in this section through the bidding system.
Technode