WeChat Mini Programs is a convenient-oriented and mobile-centric technology that has been largely and quickly adopted by Chinese netizens. In 2019, WeChat expanded the use of its Mini Program to overseas entities, so that they can develop Mini Program using a foreign business license. Let's deep dive into the available WeChat overseas Mini Programs features, limitations and potentials.
What is overseas Mini Programs ?
First introduced in 2017, WeChat Mini Programs have been gaining popularity in and outside of China. Without the trouble to download and install, these lightweight "apps" integrated within the WeChat platform are easily accessible and ready to use.

Through Mini Programs, you can order fresh grocery, consult a doctor and even test your wellness level during Covid-19. But the most popular Mini Programs fall into four categories: games, utility, news and e-commerce.
In 2019, Mini Programs generated more than 800 billion RMB of transaction volume. Businesses in 167 countries are welcome to create overseas Mini Programs and turn 1.1 billion monthly active WeChat users into their potential customers.
Limitation in the WeChat overseas Mini Programs features available
Within China, individuals can register and create their own Mini Programs. However, for overseas Mini Programs, only companies are allowed. Moreover, almost everything is possible via Mini apps in China, which is not the case for overseas Mini Programs.
But still, overseas Mini Programs open to a wide range of business categories, including tourism attractions, retailers (e.g. clothes, shoes, bags, jewellery, watches, cosmetics, etc.) and services (e.g. food delivery, taxi, hotel, etc.).
Introduced in February 2020, the new live-streaming feature is not yet available on overseas Mini Programs. But in China, live-streaming has become a powerful tool for e-commerce. During live-streaming, hosts could organize interactive Q&A, distribute discount coupons and run lucky draws to warm up the audiences.
On Women's Day 2020, a thousand brands tried live-streaming via Mini Program. The results were impressive, as some brands were able to boost the number of orders by 12 times, hitting 20 million RMB daily sales.
Key WeChat overseas Mini Program features by scenarios
Connect with art lovers
Recently WeChat has teamed up with 11 American museums to create the "Museum in the Cloud" experience, allowing art lovers to visit museums from their homes.
The MoMA mini program (心动MoMA) from the New York Museum of Modern Art offers Chinese language explanations, audio guides and creative challenges to win rewards such as exclusive wallpapers and MoMA postcards.
One amusing feature is "Find Your Match" inspired by the dating apps. Artworks pop up and you can swipe left or right. Once you find an artwork that touches your heart, you get the match! Of course, you can click to know about it more intimately.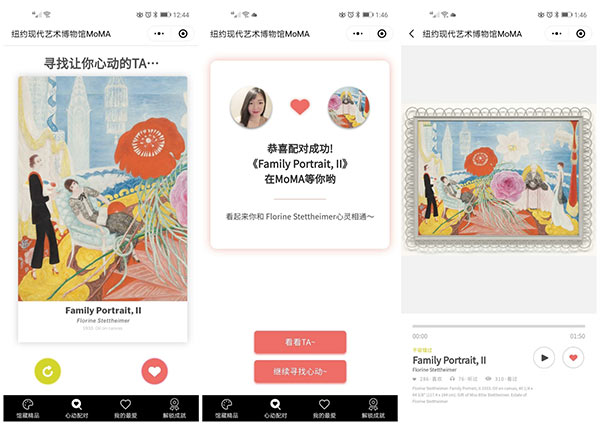 After opening the Mini Program of the Asian Art Museum of San Francisco, you will go on a private tour led by Dr. Xu, the museum director. If a certain piece catches your eye, you can add it to "My Display Case" and take a quiz to win a "Collection Certification".
"The world is changing," Dr. Xu tells WeChat Global. "But one constant is the desire for connection. WeChat serves as one of the most important portals—24 hours a day, 7 days a week, across oceans and continents—for engaging global communities with 6,000 years of art and culture."
Seize the travellers
Tourism Mini Programs probably offer the most comprehensive features, whether it is audio tour or souvenir store. Take the WeChat Go Europe Mini Program for example, travellers can book attraction tickets, check reviews, arrange airport pick-ups, have real-time translation and create postcards in 27 European cities.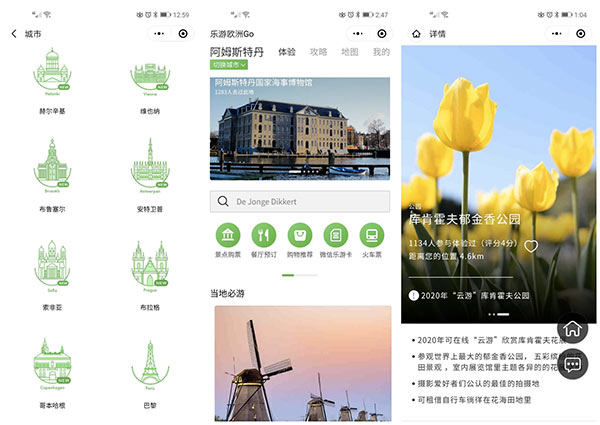 This April, a Chinese vlogger broadcast the Dutch flower park Keukenhof to Chinese at home. She also suggested novel features, which would allow future travellers to find the "perfect photo spot" and "customize itinerary" within the Mini Program.
Open for delivery
While restaurants have to close during the Dutch lockdown, many Chinese restaurants remain "open" on Mini Programs. Food lovers could search for nearby restaurants and have contactless delivery. To save delivery fee and enjoy discounts, "group buy" is possible —— share with connections in the same area and "group" orders together.
Retail undisrupted
As Covid-19 disrupts offline retail, more overseas retailers have cast their eyes on e-commerce Mini Programs. They could unlock many useful features including new product notifications, member management, flash sale, lucky draw and customer service. When they publish content, they could also insert the Mini Program like a display card in the post, converting readers into shoppers effectively.
After registering to Overseas Mini Program Account, you can "unbox" overseas Mini Programs and discover more fascinating features.