Leveraging the experience from WeChat APP for personal purposes, Tencent has developed an Enterprise set of tools for team collaboration and communication. Businesses are able to offer Enterprise-focused platform for the productivity of their employees.
1. 101: What is 'WeChat at Work'? How do you create it? What are the benefits?
This is the enterprise version of super-app WeChat
Solution for Enterprise Messaging. A direct competitor is Dingtalk (earlier player on the market) from Alibaba Group.
One unique advantage for WeChat Enterprise is the link with WeChat where all the customers are.
What can be done with WeChat for Entreprise:
Reimbursement
Leave management
Conference room management
Protect sender & receiver privacy (same logic as WeChat)
etc…
---
All in one place – essential reports to learn the basics: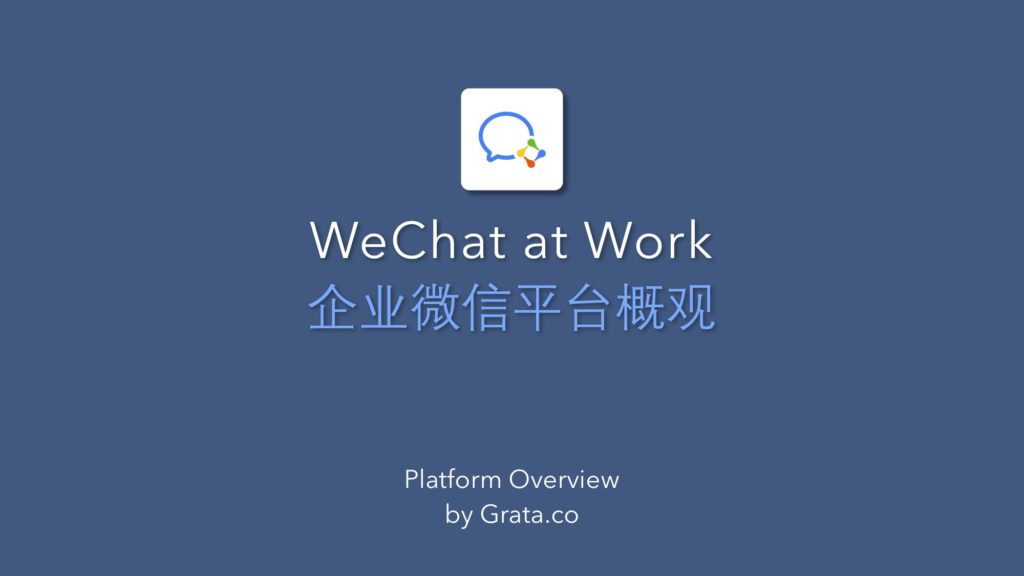 Wechat at Work | December 2017 [Grata]
---
2. Tips, tactics and best practices to relevantly implement this enterprise tool
3. Customize your 'WeChat Work' tool by building tailor-made applications via h5 or Mini Program and leveraging API integrations
How to develop a Mini Program within WeChat Work tool
4. Feature updates and timeline on WeChat Enterprise platform
Date
Features
Source / more details
July
– First features for chatbots integration
– enhanced customer broadcast messaging
– email signature 'business cards'
Grata
May 2019
– 17,000+ third-party partners join the ecosystem
– Integrating with third-party services offers more features within the platform: staff training, survey platforms, online contract signing, and more
Technode
May 2019
– Section 'Customer Dashboard': capturing data about customer management
– Punch In/Out App: new admin dashboard and new reporting views
Grata
April 2019
– Welcome message: send it when a customer is added
– Overtime system management improvements
Grata
March 2019
– Business card scanner: scan a business card to connect with a customer in WeChat
– Group broadcast messaging assistant: message some or all of WeChat contacts from WCW
Grata
January 2019
Interoperability improvement – External contact management
Grata
November 2017
Interoperability improvement – Chinese ID no longer required for the real name verification
Grata
February 2018
Deploy your company Wechat Pay QR code to all your employee with one click.
For sales team: employees can now individually collect payments from customers, deposit directly into your company account.
Grata
April 2018
– Add external contacts from WeChat
– Apps can create group chats
– Star Frequent Contacts
– WeChat at Work App Store
– Employee Rewards
– Reporting App
– Group chat management
– Connect Official Accounts to WeChat at Work
Grata
May 2018
Grata
June 2018
– Link multiple Work accounts together (e.g. Main Brand account and all outlets)
– Migration of contacts when an employee leaves the company
Grata
June 2018
Grata
September 2018
Grata
5. News and timeline on WeChat Corporate
Date
News
Source / more details
May 2018
1.5 million corporate entities registered on the platform
30 million active users
January 2018
During the WeChat Open Class conference in Guangzhou,
the current tool is mainly used for internal company communication.
In 2018, the tool will add a new feature that enables employees to communicate with users outside of the company.
This is particularly interesting as a lot of salespeople are using WeChat in order to stay in touch with their clients or partners. WeChat for Work will enable to keep this convenient mode of communication while bringing the data back into the company's database and CRM systems.
Walkthechat
April 2016
Tencent release of the first version of WeChat Enterprise = a standalone version of WeChat for business entities to draw the line between the work and personal lives of WeChart users
Technode