China market is promising. Cross-border commerce can be seen as a relay of growth for brands and businesses outside of China to start entering the Chinese market while minimizing the risk. WeChat which is the primary customer engagement hub in China offers the structure to support this strategy. That's why WeChat cross-border commerce can be an opportunity for brands outside of China, leveraging WeChat cross-border payment.
This is a chapter we focus on providing you with the foundations of a WeChat cross-border commerce strategy from a platform perspective.
After building the channel to host/sell products, a China-based agency can work in complementary to the platform operator to promote products and services and find an audience.
1. Introduction to WeChat cross-border commerce and China cross-border framework
A bit of context: there are 3 mains touchpoints to sell to Chinese consumers in the ecosystem of the cross-border trade:
Overseas retails outlets for Chinese living or travelling abroad or Daigou agents
China-based retails outlets through wholesalers/importers/distributors
Cross-border commerce
In this chapter, we focus on the latest category of trade and more especially the channels integrated to the WeChat ecosystem.
There are other sales options for cross-border eCommerce which are detailed in the market overview section.
All these sales channels can works in synergy.
What is WeChat cross-border commerce?
China cross-border e-commerce (B2C) is the process to sell products to the Chinese market shipped from abroad without having to register a Chinese company or apply for local product licenses.
China-based customers can purchase products from Japan, Germany, Korea, France, U.S, etc…
WeChat focus means that the online commerce platform exists within WeChat.
Benefits of China cross-border
Confidence of Chinese consumers to shop on foreign websites
Chinese consumers make cross-border purchases because of the product quality, the quality-price ratio, the uniqueness, the guaranteed authenticity.
Lean process with minimum risk
Cross-border eCommerce allows foreign brands to enter China in a cost-effective manner. It requires less capital investment and less inventory risk.
Fast track to initiate business in China
Brands can avoid the hassles of exporting to China and registering product under traditional trade regulation. It does not require lengthy product testing or registration processes.
Business cases
Sell products and services to test them (validate product traction)
Understand how products might be received
Assess what products works best
Test a new product line available in markets outside of China
See how the market works (where demand comes from, etc…)
Understand competitors in China
Build your brand awareness in China
These use cases are suitable for smaller brands and retailers.
Depending on the results against these business objectives, merchants should be better informed whether to expand further or not.
How the cross-border e-commerce works in China
Products sold directly to Chinese consumers from outside of China
It is based on specific import trading rules which are different from General Trade.
Importing process happens through fast customs product filing, customs clearance and lower import taxes.
General Trade – Traditional Import trading
Cross-border eCommerce trade
Legal Entity
Chinese local business
Overseas business
Trademark and IP requirements
Chinese local registration
Chinese registration only
Regulation / Policy
Regarded as bulk goods with CRDA requirements

product registration and legal issues
Regarded as personal articles with no CRDA requirements
Tax
Tariff + GST + VAT
(GST + VAT) x 70% (No tariff)
If you can't legally sell your product in China thought the General Trade channels, the Cross-border eCommerce becomes the recommended options.
This eliminates the need for wholesalers or importers in the middle. And so there is less mark-up on an imported product sold to a Chinese consumer.
Warehousing for China cross-border
When defining the import strategy, the logistics plan goes along with the selection of the warehouse location from where the products are sent. Then the products can be shipped:
individually directly to the buyer (direct shipping) => no warehouse needed
in bulk to China to a bonded warehouse (in Hong-Kong or mainland China) from where the order is shipped to the buyer
Several options to store products before orders
| | | |
| --- | --- | --- |
| Overseas warehouse (EU/US) | Banded warehouse in Hong-Kong | Bonded warehouse in mainland China |
| **Warehousing cost** | | |
| ➕ | ➕➕ | ➕➕➕ |
| **Warehousing operation** | | |
| Shared with other countries | Shared with other countries | Committed to China |
| **Re-allocation** | | |
| N/A for a brand-owned warehouse | Easy | Hard |
| **Logistics model / option** | | |
| Direct shipping | Bonded Zone | Bonded Zone |
Logistics of WeChat cross-border commerce
Logistics process via cross-border import
Send the goods with cross-border logistics
Store them in a warehouse in Mainland China or in Honk-Hong, except for direct shipping
Clear China Customs with the end client's information (ID, phone number and valid name)
Deliver in Mainland China with domestics logistics and transportation
Logistics options
There are 2 options:
Direct shipping
Bonded zone model
Direct shipping
Bonded Zone
Shipping time
5-10 days
From Hong-Kong: 4-7 days
From Mainland China: 3-4 days
Shipping cost
➕➕
➕
Forex fluctuation
Limited risk
Higher risk
Return management
Challenging
Easy
Upfront investment
Low
High
More details about direct shipping option

When shipping directly from aboard – the announced delivery time is about a week. But in reality, it takes more 2-3 weeks as products have to go through the logistics and admin processes.
More details about the bonded zone option

In the bonded zone model, the warehouse is located in a special bonded zone in Mainland China or in Hong Kong where you can store products as part of the cross-border trade.
These bonded zones are located in a Free Trade Zone (FTZ) which is a cross-border area where Chinese government tests economic reforms and new regulations, with the aim of:
opening up the economy
simplifying procedures in logistics, warehousing and customs clearance
These FTZ are meant to boost liberalization and facilitation for international trade.
The products stored in the FTZ are under the 3rd party logistics provider care with the following process:
Ship goods from the origin country to a bonded warehouse at the FTZ
Deliver the products from the FTZ
3rd party logistics provider
The logistics partner plays a pivotal role in the success of any WeChat shop. Terms and conditions must be negotiated and agreed upon with them.
3rd party logistics operator's scope:
pick & pack
storage
custom
delivery
returns
insurance
Added Value Services (VAS): relationship with customer service, shipping tracking
Cross-border tax
The applicable cross-border tax depends on how the goods are shipped. There are 2 types of tax, corresponding to the 2 logistics options.
Personal import tax
Cross-border import tax
In China, the preferential tax regulations are made to lower the price of the goods in order to spur cross-border commerce.
Depending on the logistics option, applicable tax is different:
Personal import
Cross-border import
Custom clearance
via direct postal clearance
via bonded clearance
applicable tax
If the parcel get checked
=> 15-60% postal tax
born by the customer or logistics operator (preferred option)

If the parcel DOES NOT get checked, you are lucky
=> No tax 🎉 🎉

GST: from 13% (depends on the product category)
VAT: 3%
=> 11.2% consolidated tax (25.5% for cosmetics)
Note
tax free if under 120 USD
Chinese regulations
Regarded as personal articles with no CRDA requirements
Category of products
Only products authorised to be traded via cross-border can use in the cross-broder ecosystem in China (WeChat & marketplace platforms).
The product categories which can be sold on a cross-border WeChat Mini Program is more limited compared to the permitted product categories which can be traded into China via cross-border.
List of permitted product categories which can be sold on a cross-border WeChat Mini Program
Clothing / Shoes / Bags
Cosmetics / Toiletries
Jewelry / Accessories / Glasses / Clocks and watches
WeChat has a stricter set of rules in terms of product category available for cross-border.
Full list of permitted product categories which can be traded into China via cross-border
Clothing / Shoes / Bags
Cosmetics / Toiletries
Jewelry / Accessories / Glasses / Clocks and watches
Toys
Home appliances / Digital products / Mobile phones
Sports / Outdoor gears / Musical instruments
Flowers / Gardening / Crafts
Home furniture / Home decoration / Home textile
Office / Stationery
Automobile
Sport training & online fitness
Advertising / Design
Public relations / Promotion
General financial services
Online tools (calendar, dictionary, etc.)
Travel guide
Visa services
Restaurants comments & recommendations
Restaurant queuing
Meal ordering and delivery
Education
Photography/Enlarging print
Wedding service
Housekeeping
Ticketing
Utility bill payment
Delivery services
Exhibition services

For WeChat, there is no F&B categories. So you can't sell spirits (alcohol) on WeChall via cross-border even though it's possible on Tmall Global.
Hence depending on the product category to sell through WeChat cross-border, the available solutions can be limited.
Further readings
Legal presence in China
Do you need to set up a mainland Chinese legal entity to sell through WeChat into China?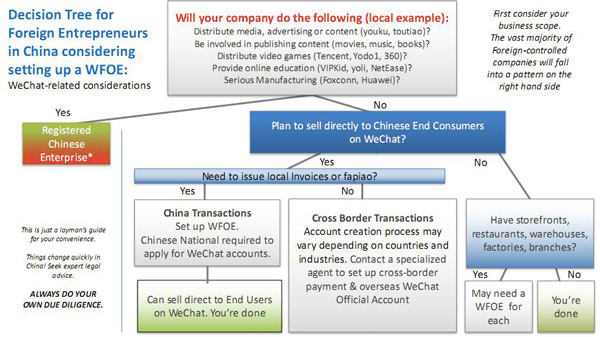 A few keyways
Fapiao (local invoice) is a serious issue in China. Fapiao management is getting more and more stringent.
Virtually all local businesses will have a WeChat presence.
Trademark and IP requirements
You should obtain a trademark registered in China for all your products before initiating any sales; even those via cross-border.
Trademark registration is a crucial aspect of opening a cross-border shop in WeChat.
2. How to sell on WeChat from outside of China
outside of China means no / limited presence in China.
We break down the different scenarios to start selling cross-border through a branded WeChat shop.
Our scenarios are based on:
leveraging an existing and flexible WeChat store solution to support cross-border activity
avoiding additional costs to develop a custom-made WeChat store from scratch
Here are the advantages ✅ and disadvantages ❌ of building a WeChat-based solution:
In our scenarios, the cross-border store is leveraging WeChat power, in order to build a direct relationship with their customers.
If other sales channels are considered like the marketplace platforms (Tmall Global / JD international):
it requires extra investment which is quit high.
the control and the flexibility with these 3rd parties channels are different.
a cross-platform strategy should be put in place.
Also as these scenarios are using WeChat ecosystem, the cross-border payment option is WeChat cross-border payment (the ability to pay from within WeChat, with one click). This payment method doesn't require you to have a Chinese bank account.
Eventually there is no scenario better than the other. It depends on the merchant parameters:
objective
budget
China presence
market priority / commitment to China market
buyer persona
competition
product category
number of SKUs
retention rate
Scenario 1: build your owned channel with a local partner (who might not be specialized in cross-border)
Option aiming at accessing the maximum of what local entity can do with limited commitment
Find a trustworthy local partner
Sign up for WeChat Store Provider using the 3rd party local partner information (mainly the business license) in order to build a standalone eCommerce
Create a cross-border Payment account
Set up and configure the WeChat Shop
The WeChat store is operated directly by the brands/retailers. They manage everything in-house to build a WeChat sales channel.
You can access the features and the benefits of a WeChat Store as if you were locally registered. You can also apply for a WeChat Official Account to link it to your WeChat store.
If the local partner is not specialized in China cross-border commerce, the process could be less smooth (regulations, logistics, customs, tax, etc…)
Scenario 2: leverage a 3rd party cross-border solution to hit the market fast (with the support of a local WeChat Trader Partner)
Option aiming at unlocking Chinese eCommerce opportunity with a minimum commitment
There are local companies specialized in China cross-border commerce on WeChat called WeChat Trader Partners. They help you to build your presence on WeChat and generate sales on it with turnkey solutions which can be marketed in 2 models:
a package to build a standalone WeChat shop – flagship store
a marketplace program to have a shop in a WeChat-powered multi-brand platform
Process until you hit the market:
Find a WeChat Trader Partner specialized in China cross-border commerce through WeChat
They set up and configure the WeChat Shop.
Setup and configuration include:
Shop creation, set-up and design
WeChat Pay integration (cross-border payment provider:)
Warehousing connection
Foreign payment gateway
Customer service and returns workflow
Payements and settlements (workaround of setting up a WeChat cross-border payment account)
They operate the Chinese online shop (from set-up to management) on your behalf via a delegation contract.
Beyond providing the ready-to-sell platform, they are able to assist you further (with potential additional costs) with some important topics related to cross-border commerce
Support to source of 3rd party services (logistics, warehousing)
Product category compliance
Logistics and warehousing: manage logistics and support logistic needs (cross-border logistics, warehouse services, courier services)
Customs
Online shop experience
Platform maintenance
Shop management: update store design / input product information – product management
Customer service
Returns management
Loyalty program
Reporting: regular operations report and analysis
Content creation and design
The cost varies depending on the platform they are using:
they have their own proprietary platform.
they leverage an existing WeChat store solution.
The scenario helps to enjoy the power of domestic eCommerce platforms without the hassle of the admin processes, the platform maintenance and a China presence.
Scenario 3: Overseas WeChat Shop
Option aiming at getting started and testing the market
Register a WeChat Official Account or Mini Program based in the origin country under your foreign entity name
Create a cross-border Payment account
Create, configure and design the WeChat Shop
An overseas entity can apply for cross-border eCommerce Mini Program / WeChat Official Account. All of the following documents need to be supplied at the same time:
E-commerce platform qualification documents issued locally (notarized by a notary institution and certified by the local Chinese embassy)
Entrustment agreement with domestic enterprises (the content of the clause must include liability authorization guarantee and promise to bear legal responsibility)
Consumer protection mechanism or scheme (such as consumer risk notification letter)
However, there are limitations to check before registering for Overseas Mini APP:
So in most case, custom development is required to implement a 3rd party payment gateways to enable the cross-border payment.
Scenario 4: build your owned independent channel with your own Chinese entity
Option aiming at medium to long term plan for China market
Set up a company in China – Incorporate WOFE
Apply for a WeChat Official Account
Apply for WeChat Pay
Sign up for WeChat Store Provider to build a standalone eCommerce
The WeChat store is operated directly by the brand/retailer.
3. Other considerations when setting up a cross-border shop for China
Technologies
In the previous section, we cover the different solutions that are integrated in the WeChat ecosystem. A standalone store or a third-party marketplace can be powered by different WeChat-based technologies:
The other sales channels for cross-border eCommerce that are NOT integrated in the WeChat ecosystem are using:
Native APP
Web-based eCommerce
When targeting Chinese consumers, in order to match Chinese's behaviour, it's important that the technology is:
mobile-first
with Chinese user experience
integrated with Chinese payment systems (WeChat / Alipay)
WeChat cross border payment service
The payment is settled via WeChat cross-border payment. The end-customer pays in RMB via WeChat and the merchant received money in overseas currency.
WeChat cross-border payment service is a payment gateway to allow customers to use the Chinese currency to pay for goods or services sold by overseas merchants (both online and offline).
In order to use this service, overseas merchant opens a WeChat cross-border payment account that is link to the name of the foreign business (no need Chinese license).
Commission
WeChat cross-border payment charges around 2% on the cross-border transaction including the conversion to the foreign currency.
How to set up your account?
Register to WeChat cross-border payment account via:
3rd party cross-border payment provider (official local partners / WeChat agent / payment intermediaries)
WeChat Pay Service Provider / 机构服务商 (native account)
The latest option takes (a lot of) time and the provided API is as good as the ones provided by the official local partners which are payment intermediaries, representative of Tencent.
So WeChat has local partners in various geographies to help WeChat to implement WeChat payment.
Their main service is to collect money on the behalf of the merchants which is then transfer to the merchant's bank account.
Benefits of using these payment intermediaries:
easier application process
faster to create the cross-border payment account (about 2 weeks)
lower cross-border payment charges (less than 2%)
Here is the exhaustive list of WeChat Pay partners per country.
Mechanism
Chinese customers pay in RMB.
WeChat Pay covers the following currencies: HKD, USD, GBP, JPY, CAD, AUD, EUR, NZD, KRW, THB, SGD, RUB, DKK, SEK, CHF and NOK. For unsupported currencies, trade can be made through the settlement of US dollars.
It settles each transaction with foreign vendors based on the price in local currency.
It purchases the foreign currency in T+1 day.
T+1 day settlement ensures a fast and safe payment transaction.
Non platform / technology expense
Beyond the cost related to the cross-border shop (set-up + operation), there are some non non platform / technology expense:
Production
WeChat Trader Partner fee
Import duties
Shipping
Warehousing if needed
4. Cross-border platforms in China
Besides branded WeChat shop, retailers and brands outside of China have another option: marketplace platforms such as Tmall Global, Kaola, Haitun, VIP international, Xiaohongshu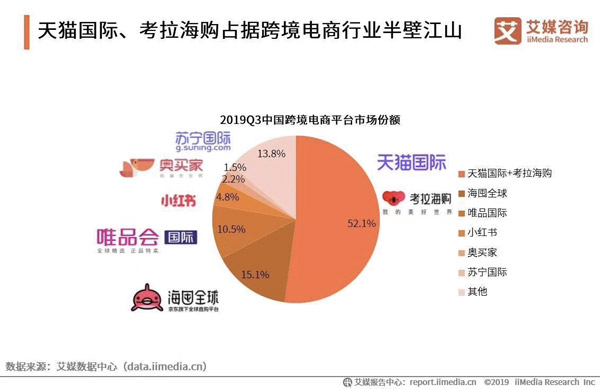 Cross-border e-commerce is dominated by Alibaba and NetEase Kaola / 网易考拉.
| | |
| --- | --- |
| Major platforms | Minor platforms |
| Tmall Global | Vip.com |
| JD Worldwide | Secoo |
| Netease Kaola | Mia |
| Xiaohongshu | Suning |
The initial investment to set and use these sales channels can be quite high for overseas merchants that only aims at testing the product-market fit.
That's why WeChat-powered platforms can be a relevant solution with a limited budget.
Idea for cost comparison (Platform / technology expense)
This cost estimate doesn't include marketing/promotion budget.
The idea of budget: minimum investment of $30K+ per year (deposit + usage subscription + sales commissions + payment fees) for 'Tmall Global' marketplace (without marketing/promotion).
3rd party cross-border B2C e-commerce platforms (TMALL, JD, VIP)
WeChat based cross-border platform
Upfront Deposit
Based on the product category

TMALL GLOBAL
150,000 – 300,000 RMB

JD WORLDWIDE
15,000 USD

KAOLA
15,000 USD
No deposit (except for some WeChat Trader Partner)
Annual usage and technical service fees
TMALL GLOBAL
30,000 – 60,000 RMB

JD WORLDWIDE
1,000 USD

KAOLA
15,000 USD
Annual usage fee from 10,000 – 26,000 RMB
Sales commissions
Based on the product category

TMALL GLOBAL
0,5-2%

JD WORLDWIDE
2-8%

KAOLA
2-10%
No sales commission
Transaction fee
Alipay = 1%
WeChat cross-border payment charges = about 2%
Further reading
5. Limitation of WeChat cross-border commerce
Only meet certain objectives (validate product traction in China with minimum risk)
Some product categories are not eligible for cross-border commerce.
6. Timeline and updates on WeChat cross-border commerce
| | | |
| --- | --- | --- |
| Date | Feature | More details / Source |
| 2012 | China is opening to cross-border commerce import. | |
7. WeChat marketing activities to promote WeChat cross-border commerce initiative
Beyond building a robust platform, in parallel of setting up the cross-border shop, the marketing strategy is equally important. Here are some techniques to generate traffic to your WeChat shop.
WeChat influencers
Cross-promotion with other WeChat Official Accounts
Content marketing
Social sharing
Driving traffic from other platform and social networks
Learn about WeChat marketing
WeChat is a relevant platform to reach Chinese customers because of its prevalence. But this platform is highly competitive because marketers are striving to catch users' attention. So the marketing strategy come even more important.
We would recommend to choose local partners to help you on this in order to benefit their local expertise and network. China is a completely specific market. We won't say it enough 🙂
---
If you think of some improvements or missing information…

Let's build up the knowledge around WeChat cross-border commerce collectively !